Houzz Survey Finds Marginal Improvements to Labor Availability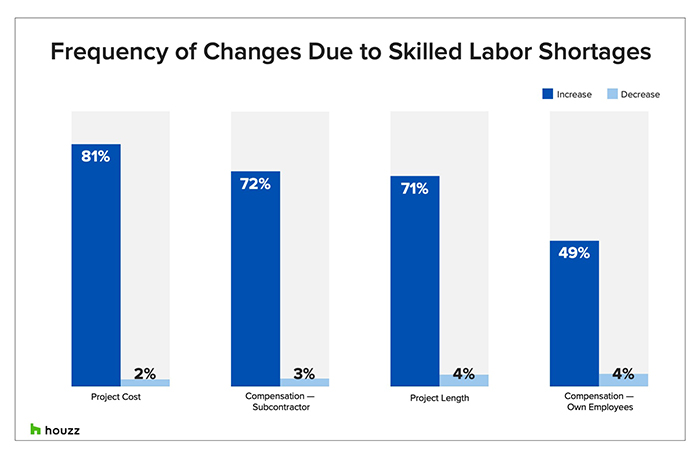 May 9, 2023
Labor shortages in the home renovation and design industry are slightly less severe than they were a year ago, according to the Q2 2023 Houzz U.S. Renovation Barometer from Houzz, a leading platform for home remodeling and design, including the all-in-one software solution for industry professionals. Nearly four-fifths of residential construction and design businesses (79%) report moderate to severe shortages in the past quarter, down from 91% of businesses in Q2 2022. This may be a reflection of declining business activity levels and decreased new committed projects reported at the start of the year (down 5 points relative to Q3 2022).
Carpenters are in the shortest supply, followed by electricians and cabinetmakers (as cited by 42%, 28% and 26% of industry pros, respectively). However, at least 30% fewer renovation and design pros are reporting shortages of these subcontractors as compared with the previous year.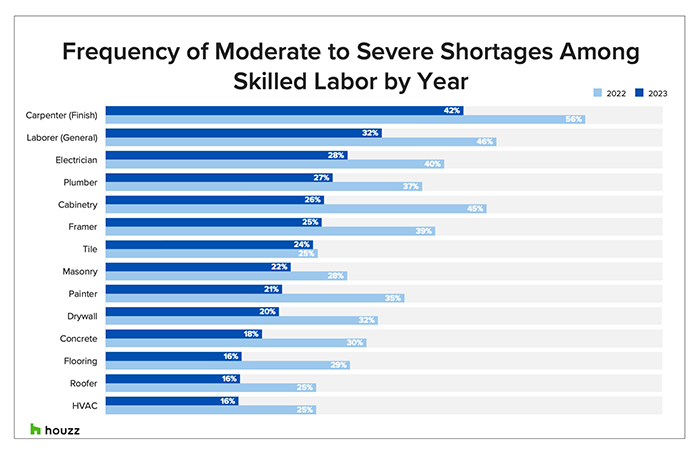 Labor shortages continue to be a headwind for the home renovation and design industry. The most significant business impacts include increased project costs (81%), subcontractor compensation (72%) and project length (71%). For their part, pros are encouraging the next generation of tradespeople to enter the industry and relieve these constraints by offering on-the-job training for recent hires (54%) and leveraging social media to spread awareness of job opportunities (42%).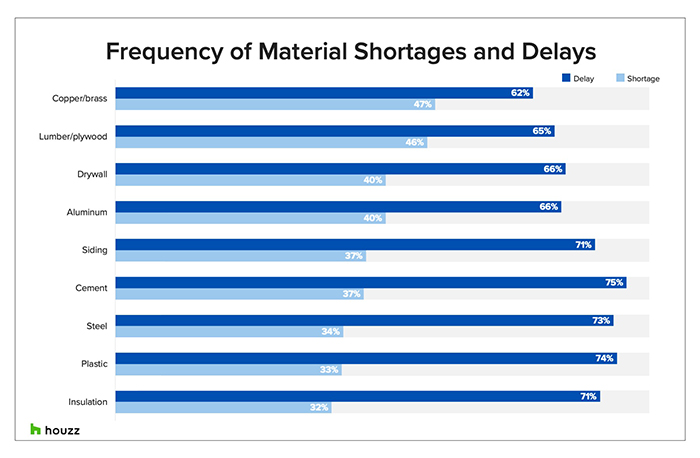 Beyond skilled labor, construction and design professionals are also facing challenges in securing the items they need to complete their projects. Nearly half of businesses not only report moderate to severe shortages of products and materials (49%), but also shipping delays once purchased (63%). Material challenges are greatest with copper or brass (47%), followed by lumber or plywood (46%), drywall (40%) and aluminum (40%). Delays in the arrival of cabinetry (96%), indoor furniture (95%), windows (94%), outdoor and indoor doors (94% and 93%, respectively) and lighting fixtures (92%) are top of mind for pros as they plan their project timelines.