Houzz Upgrades Schedule Tool in Houzz Pro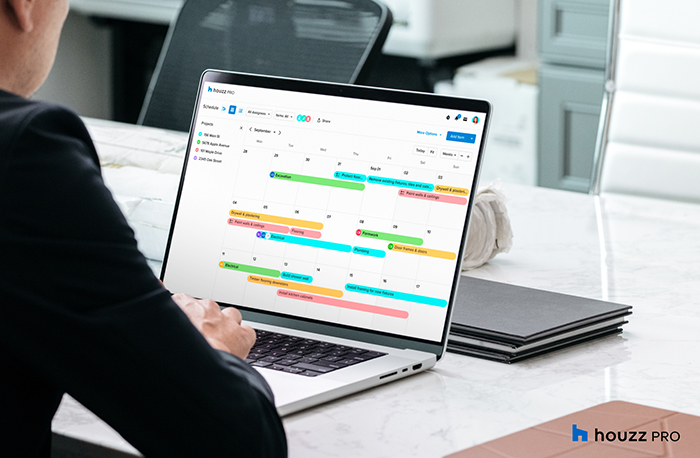 September 26, 2023
Houzz Inc. has introduced new Schedule upgrades in Houzz Pro, the all-in-one business management and marketing software for residential remodeling and design professionals. The Houzz Pro Schedule tool helps pros map out a project timeline, track progress and visually communicate the plan to everyone involved to ensure that equipment, materials and personnel are on-site at the right time. Now, pros can use the schedule overview to see all of their projects on a single calendar view to better manage subcontractor schedules and identify opportunities to book new business. 
Custom templates can now be created and saved in the Houzz Pro Schedule tool for each project type, such as 'bathroom renovation' or 'kitchen renovation,' to help pros get future projects moving more quickly. Pros simply add a new start date into the tool, then phases, items and tasks populate a schedule that can easily be updated to address the individual needs of each project.
Other project management tools in Houzz Pro include Daily Logs, Tasks and Project Dashboards, which can all be accessed on the go from the Houzz Pro mobile app. The Houzz Pro project management tools are available for pros with a Pro or Ultimate level subscription to Houzz Pro. 
Houzz Pro helps residential construction and design professionals run an efficient, profitable business and makes it easy for them to reach new customers, all while delivering a standout client experience. The software, priced to fit a variety of budgets and teams, also includes time tracking, online invoicing and payments and other design and business tools.
Photo credit: Houzz