How to Attract Dream Design Clients with a Website Audit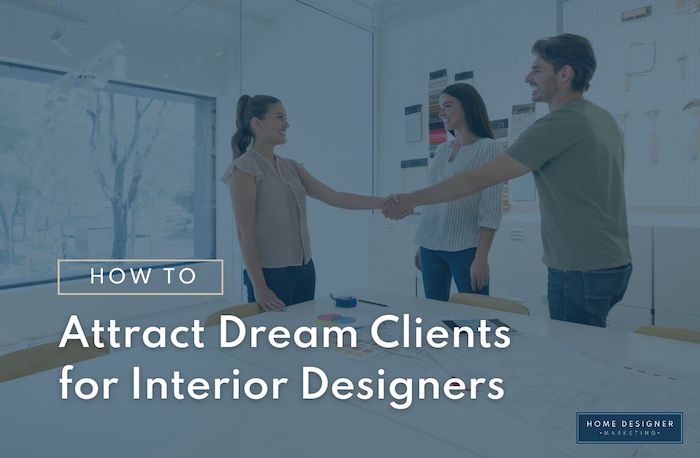 June 29, 2023
How to Attract Dream Design Clients with a Website Audit
This article was originally published on June 29, 2023; it was updated on July 10, 2023.
In the realm of interior design, a powerful online presence is paramount. Your beautiful spaces make an impact, but are your online brand and website equally impressive? Will they help attract your dream design clients?
Your potential clients are undoubtedly seeking your interior design services online. But are they finding you? If you're having trouble attracting new prospects outside of referrals or struggling to scale your business, the issue might lie in your online brand, website and online visibility.
To ensure that your ideal clients not only find you when they search online, but that they also find a captivating brand and website that generates interest, builds trust and mirrors the brilliance of your interior design work, it's important to consider the steps below.
Your Dream Design Client's Online Journey
You might think that your ideal client isn't searching online for your interior design services. The reality is your prospective clients are looking for your services online. Here is what their online journey looks like.
Phase One: Research
The beginning of your client's online journey starts with searching online for local interior designers. How they discover your website can be through several channels, from social media to searching 'Interior designers near me' on Google.
Phase Two: Consideration
Once your ideal audience begins their search online for an interior designer, they will open up the websites of the top interior designers in your area with the best Google reviews. They'll view each website for about 3 seconds to decide if they're interested in learning more.
Phase Three: Conversion
Once your prospect decides they want to know more about your services, they'll spend more time on your website, where you will have the chance to demonstrate your expertise, build trust, and encourage them to take action.
How to Improve Your Website and Online Presence
Your website serves as your digital showroom – a space that tells your story and highlights your work. That's why evaluating your website is critical to avoid some of the most common website mistakes that deter potential clients.
The services that you are offering are an emotional purchase for your potential clients and your website is their first insight to who you are and the services you provide. That's why it's important to start by reviewing your website to make sure it is positioned to generate interest, build trust, and convert your ideal client.
● Logo: Does the design, fonts, and colors of your logo match the style of your work?
● Website Design: Consider the overall feeling that your website provides potential clients. Is it creating a positive, emotional response?
● Content: Evaluate your website's content, ensuring it communicates what sets you apart and positions you as an authority.
● User Experience: Make it easy for prospects to find what they're looking for and schedule a time to learn more about you and your service.
SEO Audit
SEO refers to the optimization of individual web pages on your site, improving their visibility in search engine results pages (SERPs). Here's your SEO audit checklist:
● Keyword Strategy: Select keywords that will attract your ideal client
● Copywriting: Optimize your copy using your SEO keywords
● Website Programming: Program your keywords into the backend code of your website
● Website Images: Optimize the size and names of your images for SEO
● Monthly: Update your website consistently using your keywords
● Reporting: Track your process
How to Evaluate Your Google Business Profile
Your Google Business Profile is more important than ever to ensure your business shows up in Google Maps when doing a local search. Here are the essential aspects to review:
● Business Details: Check the accuracy of your company name, website, services, address, areas servicing, hours of operation, phone, and appointment booking link.
● Description: Review your business description to ensure it highlights your unique offerings and optimize it for SEO with relevant keywords.
● Photography: Evaluate the quantity and quality of the images. Assess if they are professionally shot, updated regularly, and optimized for SEO.
● Google Reviews: Research competitors in your area to evaluate if you have enough Google reviews to compete when your prospect searches online and in Google Maps. Check your customer reviews, analyzing both the quantity and quality. Reflect on your response rate and professionalism in handling both positive and negative reviews.
How to Assess Your Social Media Profiles
A strategic and well-crafted social media presence is pivotal in today's digital landscape, particularly for interior designers where visuals make a profound impact. During your social media assessment, consider the following elements:
● Profile: Your profile and bio should clearly communicate what your interior design business does, what areas you service, and how to contact you.
● Photography: High-quality, professional photographs are crucial for interior designers. Review your photos for quality, composition, and how effectively they showcase your work.
● Content: Evaluate the type and quality of content you're posting. Is it engaging, relevant, and reflective of your brand? Does it position you and your business as an authority?
● Hashtags: Review the hashtags you're using. Are they relevant, popular, and effective in increasing your content's reach?
How to Review Your Online Directory Profiles
Online directories are business listings online other than your website. Some examples are: Yelp, Angi, Houzz, MerchantCircle, Google Business Profile and social media profiles. Keeping your online directories up to date are important for SEO. Here's what to consider:
● Business Information: Confirm uniformity of your business name across all platforms as well as your address and phone number to increase SEO rankings and avoid confusion with your prospects.
● Interior Design Services: Ensure your listed services and business description accurately represent your current offerings.
● Website Address: Verify all directory listings link to your active website. Broken or outdated links can hurt credibility and discoverability.
● Social Media Links: Check all listings for up-to-date social media links. This strengthens your overall online presence and fosters multi-platform client interaction.
One of the common challenges faced by many interior designers in their search to attract dream design clients is an over-reliance on referrals, primarily because their website does not reflect the quality of services they offer. But, as we've highlighted, your business can compete online if your brand and website are positioned correctly.
—By Debra Scarpa, founder of Home Designer Marketing, a firm dedicated guiding designers to success with strategy, branding, websites, SEO, social media and more