HTSA Member Gramophone Launches All-New Kitchen Design Center
---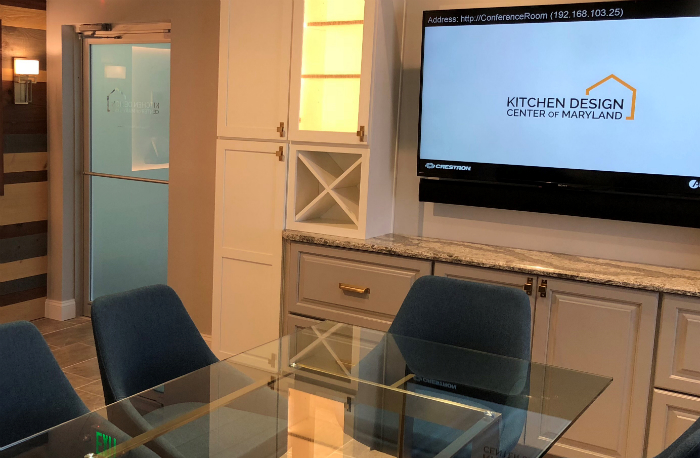 May 16, 2018
Home Technology Specialists of America (HTSA), a hybrid retail and custom integration trade consortium, is pleased to announce that Gramophone, a long-time member with three locations throughout the metropolitan Washington D.C. market, will launch a new showroom called the Kitchen Design Center of Maryland in Cockeysville on May 31, 2018. This new showroom is fully owned and operated by Gramophone and will showcase all the latest contemporary kitchen and bath designs with fully integrated technology and the latest in premium lighting solutions.
Supporting HTSA's recently announced initiative promoting premium lighting fixtures, design and services, first announced at its 2017 Fall Members Conference, Gramophone's Kitchen Design Center will add the latest in voice control, mirrored televisions and premier lighting, all intelligently integrated with a wide range of kitchen and bath designs that meet virtually any taste in home design styles.
The Kitchen Design Center of Maryland is a full-fledged design center for clients, partners and local industry professionals, offering a full assortment of kitchen and bath cabinets, counters and flooring, enhanced with lighting and technology. Gramophone took over the Cockeysville location – an existing kitchen and bath showroom offering custom kitchens, baths, wine cellars and closet systems – this past fall and has redesigned the showroom with new displays showing off the latest not only in kitchen and bath designs, but also in lighting as well as other technology enhancements. However, this is not a technology showroom featuring some kitchen and bath props, it is first and foremost a full kitchen and bath design center that showcases tasteful lighting designs and subtle but impactful technology enhancements.
"Over the years, we have gotten involved in more and more projects where we were installing technologies such as Seura mirror televisions in baths and advanced design lighting solutions in kitchens," said Andrew Davis, CEO of Gramophone. "As a result, we've been more involved than ever before in the incorporation of technology in these spaces considered so important by our clients. This move is a natural extension of that experience, where now Gramophone professionals at our Kitchen Design Center of Maryland will be involved even earlier in the design process of residential projects with our great selection of the finest kitchens and baths, tastefully enhanced with premier lighting designs and subtly augmented with popular entertainment, control and networking technologies."
The Kitchen Design Center of Maryland includes a state-of-the-art Lighting Lab where clients and other professionals can learn more about lighting including how designers incorporate layers of lighting, the impact of different color temperatures, the large variety of fixture styles and even experience ways that residential lighting can replicate the movement of the sun throughout the day inside the home.
"We want to congratulate Andrew and the whole team at Gramophone for this dramatic and exciting addition to their company," said Jon Robbins, executive director of Home Technology Specialists of America, Inc. "The Kitchen Design Center of Maryland allows Gramophone to offer clients an alternative presentation of technology in areas of the home – kitchens and baths – that many hold near and dear to their hearts, but are generally unaware of the amazing influence that a well-designed lighting plan and other technology enhancements can deliver for even greater enjoyment. After 42-years of success, I am confident that this new Gramophone location will be a great catalyst for their next 42-years of success."
Find more business news here.