IKEA Shares Insights on Global Food Habits in Second Life at Home Report
---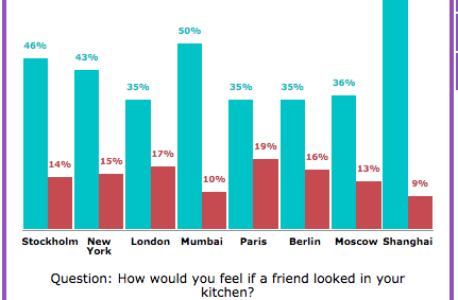 May 15, 2015
IKEA has launched its second global Life at Home Report, aimed to improve life at home through a better understanding of people's everyday routines and views on food, including how they grow, store, cook, eat and socialize over it. This year's findings, which focus on moments in and around the kitchen, are based on existing IKEA research and a new consumer study of more than 8,000 respondents from around the world.
The survey was conducted in eight major cities: Berlin, London, Moscow, Mumbai, New York, Paris, Shanghai and Stockholm, and the results reveal some surprising global similarities and differences in how people interact with food. The study shows that the kitchen has become a place for any and every home activity. Meals have broken free from their traditional domain and migrated to other places. People around the world are more concerned about how their kitchen looks than about the contents of their cupboards and fridges.
"It's in the everyday moments at home and even in the everyday frustrations that we find our inspiration; it's the base of our innovation and product development," said Mikael Ydholm, research manager, IKEA of Sweden. "Through this report, we get an understanding of how people live at home – what views, emotions and actions are connected to food and activities around it, and we are curious about what expression this takes in life at home and in society."
For the second year, IKEA has developed an interactive part of the Life at Home Report called the "Data Mixing Board," designed to help users mix and compare data and break down the results in different cities and different segments. To further explore the IKEA Life at Home Report and the data mixing board, visit http://lifeathome.ikea.com/food.