International Wood 2022 Published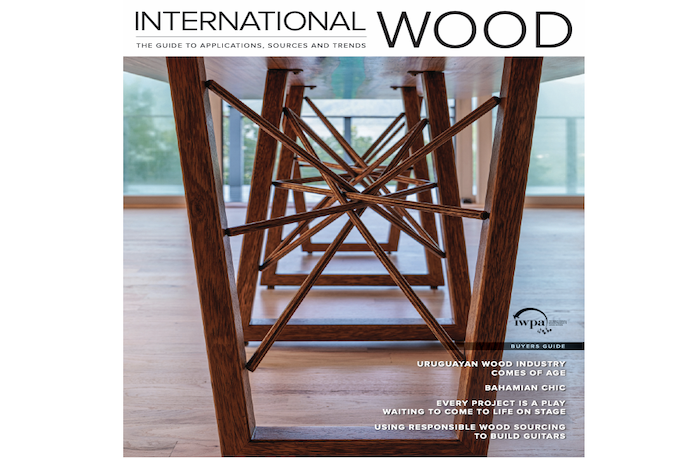 November 2, 2022
The International Wood Products Association (IWPA) released the 2022 edition of the award-winning publication, International Wood: The Guide to Applications, Sources and Trends (IW 2022). Now in its 19th edition, the magazine highlights the various unique and innovative projects utilizing globally sourced wood products to create one-of-a-kind spaces and products.
The overarching theme of this year's magazine is Embracing Change. So much has changed in the past few years – our lives, our work, our homes, and the world. How we embrace those changes is reflected in the projects throughout the magazine. Whether it's the challenges of a stressed supply chain, using the latest technology to create a one-of-a-kind floor, or rethinking what's important at home, change can drive exciting innovations. Embracing change creates opportunity that can move companies forward in new directions.
IW 2022 features articles on the latest architectural trends in homes and community remodeling, creating exciting destinations, using responsible wood sourcing to build guitars, how designers channel creativity as a play on the stage of their shop, and uniting Ipe decking with the nature surrounding it.
"Change has become a constant in our industry and IW 2022 showcases how creative innovators are leaning in with amazing products and beautiful projects that utilize globally sourced woods in breathtaking ways," said IWPA Executive Director Ashley Amidon. "We think readers will enjoy seeing the latest applications of these exotic woods while also taking advantage of resources like our industry-standard Buyers Guide, which directly connects specifiers with suppliers that can help them source all the most beautiful and highest performance wood products from around the world."
Reaching over 20,000 key decision makers involved in the specification, manufacture, import and distribution of wood products in North America, the 2022 edition of International Wood is designed to serve as a helpful resource for readers. The Nature's Palette feature allows woodworkers and specifiers to immediately learn more about highlighted species, while the Buyers Guide connects specifiers with suppliers. The magazine is now in print and online in a fully interactive platform. Article highlights include:
Every Project is a Play Waiting to Come to Life on the Stage, an article describing an Asheville, NC designer's custom built river table made from Beli (Julbernardia pellegriniana) that is a fusion of functional furniture and a unique art piece. Danny Schwalje, owner of AVL Custom Made, notes that when choosing materials for high-end, creative pieces, performance is a key criterion. He often uses Jatoba (Hymenaea courbaril), Guanacaste (Enterolobium cyclocarpum), Limba (Terminalia superba) and Wenge (Millettia laurentii) as well as varieties of Maple and Walnut, including monochromatic Peruvian Walnut for modern settings and the more colorful, busier American Walnut for traditional applications.
How Responsible Sourcing of Woods in PRS Guitars Supports U.S. Jobs, an article describing the latest trend in the use of exotic woods for guitars and how they ensure luthiers at the PRS factory in Maryland have what they need to make some of the best guitars in the world. African Mahogany is ideal for making guitar bodies due to its light weight, stability, and beautiful appearance. Genuine Mahogany is also quite stable but a bit more dense and therefore stronger and better suited to fabrication of the neck of the guitar. These woods are a win for global forests and support quality jobs in the U.S.
Ipe Decking: In Nature, Surrounded by Nature, at One with Nature, readers discover an integrated residential landscape plan includes an infinity pool, a large Ipe deck suitable for outdoor entertaining, and a pool house.