Jacuzzi Brands LLC Acquires BathWraps
---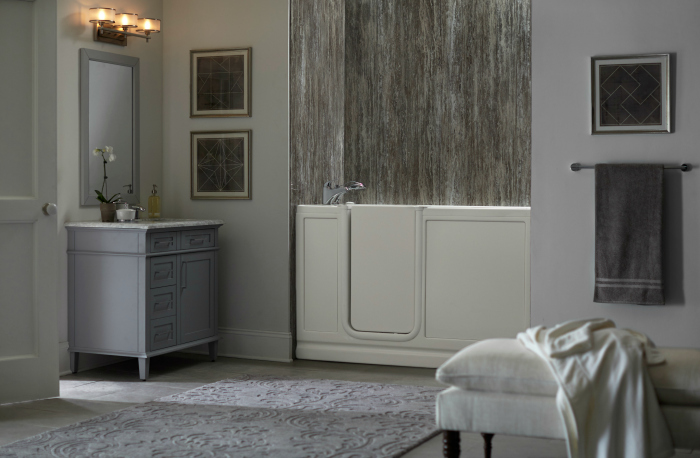 July 13, 2017
Jacuzzi Brands LLC is pleased to announce the completion of the acquisition of BathWraps, the supplier of one-day bathroom transformation services. BathWraps, previously doing business as Liners Direct, brings two decades of professional experience and innovative products sold through premiere remodeling dealers in the U.S.
"We are extremely excited about the addition of BathWraps to our bath business," said Bob Rowan, CEO Jacuzzi Brands LLC. "The company is complementary to our core business and is led by an exceptional management team, which will remain in place and continue to operate independently."
BathWraps transforms acrylic wetspace walls, tubs and showers in just one day. The company changed its brand name from Liners Direct in January of this year to make room for a massive rebrand focused on manufacturing and installing custom showers and bathtubs. The brand was established in 1997 in Itasca, Illinois, and specialized in custom bath and showers designed for the remodeling market. Jeff Conner, who will continue in his role as president, acquired the company in 2004, having since led the company through a period of tremendous growth.
"By joining the Jacuzzi family, BathWraps will be positioned to continue our rapid growth by providing world-class products and support through our outstanding network of remodeling dealers," said Conner. "Additionally, we will be able to take advantage of many new opportunities by combining forces with Jacuzzi, along with our continued commitment to the success of our dealers. We also extend a special thank you to our employees, as we maintain our focus on industry-leading performance."
Currently, BathWraps is focused on expanding its network of local dealers to help accommodate demand. Business owners who sign on as BathWraps dealers will have the opportunity to not only bring the quick-and-easy bathroom transformation services to new markets nationwide, but they will now be backed by both BathWraps and Jacuzzi.
"This transaction provides excellent opportunities to leverage growth from the combined strengths of Jacuzzi and BathWraps," said Rowan. "None of this would be possible without the continued support of our employees, customers and suppliers, who continue to believe in the strength of our brands and our tremendous growth potential."
Jacuzzi was advised by Sphaeris Capital Management LLC, a specialist in middle market mergers and acquisitions, add-on acquisitions programs and proprietary investments internationally.