Kitchen and Bath Showrooms Are Constantly Evolving with the Times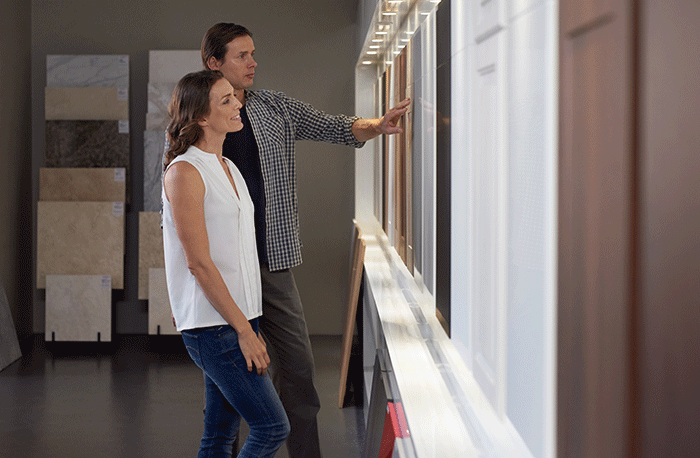 June 30, 2022
In 2014, I wrote an article discussing what kitchen and bath showrooms might look like in 30 years' time. I imagined a world where customers were buying via video screens and where actual physical contact was minimal. What I was actually describing was these showrooms just six years later.
At the time when I pictured the future of the sector, I think everybody knew the time would come that people would be shopping online. Already, people were ordering and getting everything delivered straight to their homes. Shopping, takeaways, movies, music and everything else. I think it was only a matter of time before the kitchen and bath industry followed.
Were We Prepared?

Currently, we seem to be stuck in a very strange place where some customers want to come back in to look around kitchen and bath showrooms, and some still don't feel confident. Also, some showrooms are still set up with screens, a mask policy and hand sanitizer stations. Others have removed all evidence of a pandemic, and it's business as usual. Virtual showroom tours on websites seem to be a massive growth business.
In years gone by, the best you could have done online was to show some photographs of your displays with the best lighting and angles possible. Now, customers can virtually walk around your showrooms, opening doors and drawers and clicking on links for appliances that lead to YouTube videos and information sheets showing everything you need to know about the product.
But as much as virtual reality can replace most of the customers' buying experience, there are certain things that are very difficult to replace.
Customers Want to Know What Something Feels Like. No number of pictures, video clips or descriptions will ever take the place of putting a product in your hands and feeling the texture, weight and quality. People like to touch the products: Doors, countertops and appliances all need to be handled by the customer before they feel confident in their purchase.
It's Harder to Gauge Reactions from a Video Screen. As designers, when you are selling, you are looking for signals from the customer – the smiles, the frowns and the excited glances.
We Need to Be More Social

When I speak to business owners, I think everybody is learning about the new way of working. But who is doing it right?
Lead generation online is vital. Although customers coming into the showroom for the buying process is important, I think the days of "browsing" are dying out. People are now doing most of their research online, so you need to make sure your website and social media channels show the very best of what your kitchen and bath showrooms have to offer. Pinterest mood boards, Instagram, Facebook, Twitter, LinkedIn, TikTok and much more are being used to gather information for the customer, and they are choosing their showrooms based on what they are seeing online.
And it's not just showcasing your displays, you are also putting yourselves in the spotlight. Customers want to see a fun, authentic, knowledgeable and interesting team they want to buy from, and social media provides you with the opportunity to show just that.
It doesn't have to be a boring introduction, do something to differentiate yourselves from the competition.
It's a very old saying, but people buy from people, and social media gives you the opportunity to show customers that you are the type of people they should be buying from.
Ask your suppliers for support with promotional material, content and marketing images to help support your online campaigns. Almost all suppliers now work hard on their own online presence, and they should be more than happy to help support you with yours.
With all the benefits that come with online shopping, unfortunately it also comes with increased competition. Previously, companies relied on footfall to reach their customers, and customers generally got three different quotes when they were purchasing a new kitchen or bathroom. Nowadays, customers can get quotes from anywhere in the world at the touch of a button. Tiles can be sourced directly from Europe, appliances can be sourced directly from Asia, granite can be sourced directly from South Africa. Nowhere is out of reach.
The basics of purchasing a new project hasn't really changed. Customers have a rough idea of what they want, then look for the best advice and guidance available, and then they use all the information they have gathered to decide on buying.
Only now, thanks to the internet, the customer is a lot more informed than they were. And not just with the products; Google reviews, Trust Pilot and social media comments mean they are a lot more informed about your company, too. So, make sure you bring your A game.
By Paul Da Silva, managing director of Paul Da Silva Associates, www.pauldasilvaassociates.com
Photo credit: Daxiao Productions, Adobe Stock