Kitchen & Bath Industry Show and International Builders' Show to Co-Locate through 2020
---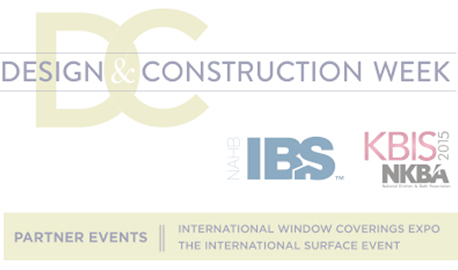 January 20, 2015
Building on the major success of their original co-location in 2014 as Design & Construction Week, the National Kitchen & Bath Association (NKBA) and the National Association of Home Builders (NAHB) today announced that KBIS and IBS will continue to co-locate through 2020 as one of the world's largest gatherings focused on new ideas, products and technologies to design, build and remodel homes.
Design & Construction Week 2015, opening today and running until Jan. 22, is expected to draw more than 125,000 specifiers, builders, dealers and suppliers, more than 300 members of the media and 3,750 exhibiting brands. The announcement of this lasting partnership will be a major highlight of this opening day, as exhibitors and attendees alike have fully expressed their excitement about the partnership.
"In only its second year, Design & Construction Week is already the mega-event of the industry," said Maria Stapperfenne, CKD, CBD, 2015 NKBA president. "All of our professionals can come together once a year to see the newest products and design trends, build relationships and benefit from all the cutting-edge professional development."
The 2016 mega-event will be held Jan. 19-21, 2016, in Las Vegas, with IBS again occupying the Central Hall and KBIS occupying the North and South Halls. One pass will continue to provide access to both separate exhibits. NKBA and NAHB will continue to produce separate educational programming and special events. Future show dates are Jan. 10-12, 2017, and Jan. 9-11, 2018, when the event will move to the Orange County Convention Center in Orlando.
"Given the success of the last two years, our manufacturers have overwhelmingly embraced Design & Construction Week," said Brian Pagel, VP, Kitchen & Bath, Emerald Expositions. "We're excited at the proposition of continuing this wonderful partnership through 2020."
KBIS, now in its 51st year, is the largest event in North America focused on the kitchen and bath segment, attracting more than 700 exhibitors. Attendees include dealers, designers, architects, remodelers, wholesalers and custom builders from more than 50 countries. KBIS is owned by NKBA, sponsored by K+BB magazine and produced by Emerald Expositions.
"NKBA is proud to have created the Design & Construction week platform with NAHB," said Bill Darcy, NKBA CEO. "We brought together KBIS and IBS to create something extraordinary for every segment in the residential construction and remodeling industry."
IBS, now in its 71st year, is the largest annual light construction show in the world. Builders, remodelers, developers, architects and other industry professionals from more than 100 countries attend to see the latest products and services from nearly 1,000 exhibitors in more than 200 construction categories.