Kukun Launches Bidding System for Home Renovations
---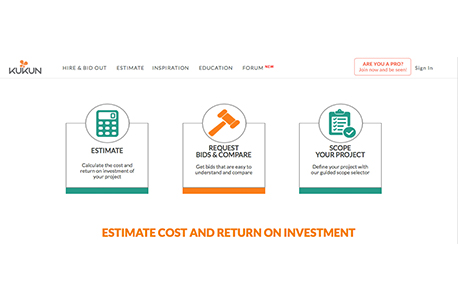 May 24, 2016
Kukun, the only digital platform that gives people control of their home renovation projects from start to finish, announces the launch of the 'Kukun Bidding System.' The bidding system will allow every homeowner, buyer or seller to fully scope their project and share it with their own preferred professional privately or with Kukun's directory of 80,000 contractors in 15 major metropolitan areas.
"Kukun is providing homeowners the ability to receive multiple bids for an apples to apples comparison on costs, materials used, and time," said Raf Howery, CEO and co-founder of Kukun. "Renovators are assured they're getting the best deal by getting multiple bids and comparing 'apples to apples' without relying solely on referrals or scouring the internet and Yellow Pages, to get the most value for their home investment."
Coupled with Kukun's latest rating system feature, the platform prevents uncertainty by aggregating fragmented systems to empower homeowners with choice and control. For contractors, it permits higher quality projects and tools to hire subcontractors. Kukun is the center between homeowners who have been waiting for a solution in the offline home renovation market and industries that serve it; including construction, loan, real estate and retail.
How it Works:
1. Request a Quote: User requests a quote to share with professional
2. Intent to Bid: Professional can express an intent to bid to user, and user can approve or refuse the intent then schedule a visit
3. Approve: Homeowner approves the intent and schedules an in-person meeting to discuss plans and needs
4. Plan: Contractors use Kukun's online system to bid the project with details, such as materials needed with associated prices, tasks associated with dates, labor and any subcontracting work (full-service work) to standardize the bidding process
5. Seal the Deal: Homeowner chooses the winner, then a calendar with reminders alert, both the contractor and homeowner, for deadlines and purchases decisions
Kukun's all-in-one platform makes it simple to choose a professional, creates a step-by-step plan with task reminders for the homeowner and contractor to instantly project the remodeling plan, and ensures minimal overruns with deadline alerts for timeliness; avoiding delays. Check out the site at www.mykukun.com.