Larger Showers Reign, Houzz Survey Finds
---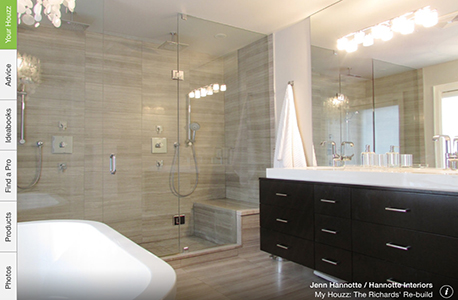 March 25, 2015
More than two thirds of those remodeling their master bath are increasing the size of their shower (67 percent). Of those homeowners renovating, nearly one-third will increase the size of their shower by half or more (30 percent), according to the 2015 U.S. Houzz Bathroom Remodeling Survey of nearly 3,200 Houzz users who are in the midst of, planning or have recently completed a bathroom remodel. Houzz also found that despite increases to the shower, the majority of master and other full baths are maintaining their footprint (71 percent and 82 percent respectfully).
"Bathroom remodels rival kitchens in popularity and are the second most expensive room in the home for renovations," said Nino Sitchinava, principal economist at Houzz. "As a result, when looking at upgrades and upgrade frequency, we are seeing very similar motivations for both bathroom and kitchen remodels, such as finally having the means to pay for the project."
Many homeowners are personalizing their master baths with features like showers for two (25 percent), chandeliers (15 percent), bidets (five percent) and TVs (five percent). Homeowners are also creating cozy spaces with radiant heat flooring (26 percent), towel warmers (11 percent) and steam showers (three percent). In line with the aging in place trend, Baby Boomers are incorporating accessibility features during master bath upgrades. Boomers are three times more likely to install grab bars and nearly two times more likely to have curbless showers in their master baths than younger generations. 

Additional trends in the master bath include:
Adding sinks: Nearly two thirds of homeowners will have two sinks in their master bathrooms post-remodel (65 percent), up from 55 percent in the 2014 Houzz Bathroom Remodeling Survey. In the South, three percent of homeowners report installing three or more sinks.
Renovating with recycled materials: Homeowners in the West are most likely to use recycled materials during master bathroom renovations (28 percent) versus just 17 percent of those in the Northeast. Three-in-five homeowners are recycling or donating old bath fixtures (62 percent), with the West leading the change here, as well (66 percent).
Bringing in the light: Good lighting is a key function for half of homeowners. In the master, recessed lighting (61 percent) and wall sconces (60 percent) top lists, but unique features like chandeliers and pendant lights are also popular (15 and 12 percent respectively). Millennials are more than twice as likely to install romantic lighting in the master bath than other generations (11 versus five percent respectively).
Powder rooms are updated much more frequently than full bathrooms. While this room is three times more likely to get a cosmetic upgrade, homeowners are more than 50 percent as likely to update it every 10 years or less, when compared to master bathroom updates. Homeowners are also significantly more likely to make a statement in the powder room (40 percent versus 25 percent of full baths) and are twice as likely to choose eclectic style, three times as likely to hang wallpaper and four times as likely to install hardwood floors.
Millennials are twice as likely to be motivated by a new home purchase (50 percent) when compared to Gen X (24 percent) and Baby Boomers (19 percent). Forty-four percent of Baby Boomers and Gen X report they have wanted to update their bathrooms for some time and finally have the means to do it.
You can download the full U.S. Houzz Bathroom Trends Study at http://info.houzz.com/rs/houzz/images/HouzzBathroomStudy2015.pdf.