LIXIL Receives Gates Foundation Grant to Expand Safe Toilet Business
---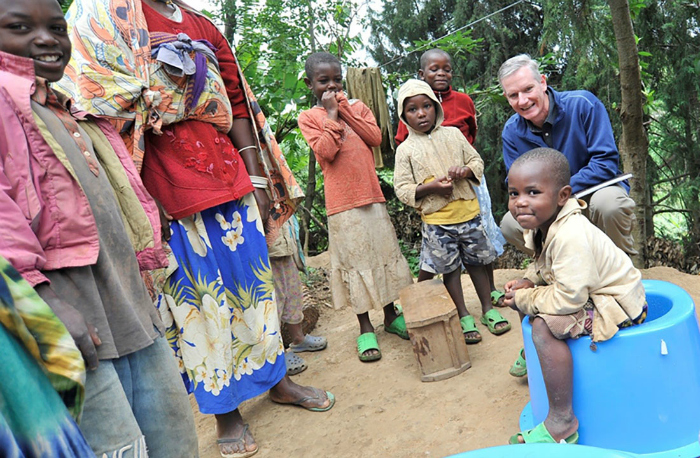 November 4, 2016
LIXIL Corporation announced that it has received a grant from the Bill & Melinda Gates Foundation to support the expansion of its SaTo ("Safe Toilet") business activities, providing affordable, aspirational solutions to people who lack access to proper sanitation.
SaTo products are designed to improve the user experience and safety of open-pit latrines. They are refined, yet affordably priced, simple to install and utilize an airtight counterweighted trapdoor to prevent odors and the transmission of disease.
"As the global leader in sanitary ware, LIXIL is uniquely positioned to contribute to tackling global sanitation issues through innovative products and a sustainable business focused-approach," said Kinya Seto, LIXIL president and CEO. "LIXIL has set a goal to improve sanitation for 100 million people by 2020, and SaTo products will play a leading role in reaching this target. We look forward to now increasing SaTo's presence in regions like Sub-Saharan Africa and South Asia, where these products can make a meaningful difference."
First developed by LIXIL's American Standard Brands with previous support from the Bill & Melinda Gates Foundation, more than one million units are currently in use in upwards of 14 countries, starting with Bangladesh and now including the Philippines, India, Uganda, Kenya and Haiti.
"SaTo products offer a simple and affordable solution that can help improve the lives of people in low-income and off-grid areas suffering from poor sanitary conditions," said Jim McHale, Ph.D., vice president, LIXIL, and general manager of the SaTo business unit. "We are now accelerating the scaling-up of the SaTo business, using the expertise we have developed in Japan, the U.S. and globally, to tackle poor sanitation. I would like to thank the Gates Foundation for its support, which will help us improve access to SaTo products in developing countries worldwide."
During the SaTo development phase, engineers underwent a number of technological design iterations and field tests similar to designing high-end toilets, including computational analyses of flushing and fluid mechanisms. The SaTo series today consists of several variations, adapted to suit local practices, cultures and regulations. This is the third grant provided by the Bill & Melinda Gates Foundation for the development of SaTo products.
"Inadequate sanitation is a pressing global problem, adversely affecting the health and prosperity of billions of people in low-resource setting," said Brian Arbogast, director of the Water, Sanitation and Hygiene Program at the Bill & Melinda Gates Foundation. "We are honored to partner with LIXIL to explore and scale innovative product solutions that will expand sanitation access and improve outcomes for the poorest and most vulnerable around the world."