Luxury Design Movement: How Kitchen and Bath Brands Respond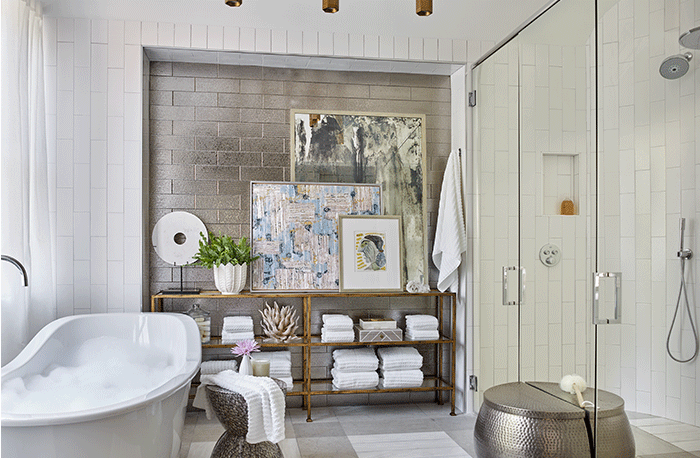 May 26, 2023
Despite what we may think, luxury is relative to the end consumer – even more so now than in decades past. Is it a product? A service? An experience? What one person sees as average may be another's version of affluence. So how do kitchen and bath brands compete in a vast landscape regarding the luxury design movement? Information.
Photo caption: An ethereal refuge designed for the homeowner, as seen in "Quintessential Kitchens and Spaces by Matthew Quinn: Volume Two." Quinn is the principal of Design Galleria Kitchen and Bath Studio. Photo: Emily Followill
In this digital age, businesses can capture immense amounts of data and quickly make informed decisions on what kind of products to bring to the marketplace. Consumer buying habits are all being tracked, and that information is for purchase online. Products your competitor spent years researching and developing can easily be searched in a couple clicks. Online reviews can be as enlightening as focus groups. Just a few keywords applied to some well-positioned marketing, and you just branded your product as "affordable luxury" to the exact targeted demographic based on age, geography and annual income.
As I mentioned, relativity plays an extensive role in defining what luxury means to us. To a client in the middle of the pandemic, it may have meant purchasing a touchless faucet and quartz countertops for their antibacterial properties. To one visiting a luxury showroom, it may have been how their favorite radio station was playing when they walked in. Knowing what your customer expects and exceeding it is luxury at any price point.
Keeping it Custom
The most prevalent version of luxury is personalization. Options available 30 years ago when my mother started in this industry are a fraction of what is available now. Customers want something that is uniquely their own. We're not just "keeping up with the Joneses" anymore. And now these abilities are available at every price point.
Offering Effortlessness
With the pace our days move, squeezing out an extra five minutes will add up to 30 hours a year. Now if a product or a service can do that, what is that worth to you? Time is our most valuable asset, as it is the one thing we will never get back. Imagine waking up and walking into your bathroom and the floor is warmed to your ideal temperature by your preset heated floor thermostat. Your in-line water heater has already prepared for your shower based on your daily habits, and the profile you created through your shower'sapp automatically sets the temperature to your preferred 102.6 degrees. You get out and turn on the defog mechanism in the mirror along with the in-mirror TV so you can watch your favorite news channel while you get ready. These are all options readily available in just about every price point.
All in the Experience
As someone who works in this tier of the industry, there is something to be said about what separates luxury brands from their more mass-produced counterparts, and that is the experience. Luxury clients expect you to have extensive knowledge of the newest materials and products, have relationships with all the major and even the obscure luxury brands and be not just on the forefront of style but pushing the envelope of what is possible. That experience is what makes the difference between a five-figure and a seven-figure kitchen. And you can't do it alone – you need partnerships and experienced representation from your suppliers. Ever had an appliance brand send someone out to teach your client how to use their appliances and cook with their products? Sub-Zero/Wolf does. That is a luxury experience.
Whether it's a focus on product offerings, available services or an unparalleled experience, luxury design is in the eye of the beholder. Anticipating their target audience's needs with amenities they don't even know they need will be necessary to stay relevant and maintain market share. Utilizing the sheer amount of information available at their fingertips through following consumer trends, buying habits, demographics and the competition will be how kitchen and bath brands keep bringing new definitions of the luxury design movement to the marketplace.
By Nicholas Vanderhovel, CMKBD, Design Galleria Kitchen and Bath Studio