Luxury Kitchens and Baths Are for Everyone and Every Budget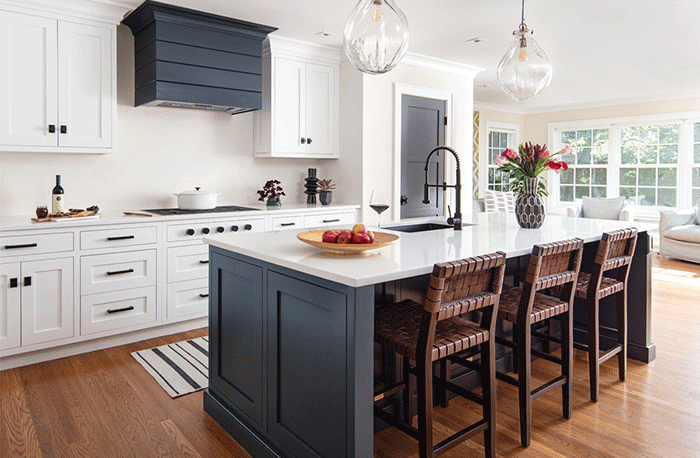 March 3, 2023
Designers are noticing a subtle shift in client requests for luxury in their projects. What's become apparent is that it no longer simply represents opulence, rather its definition has evolved to represent not only a certain level of materials and finishes but also something more intangible. Luxury kitchens and baths today can also be described as more experiential, representing comfort, convenience, indulgence and an elevated personal experience.
A frequent request amongst homeowners embarking on a bathroom project is for a spa-like retreat, a feeling that is commonly evoked in a high-end luxury hotel or wellness center. That may be achieved through the introduction of specific materials such as natural stone and different wood species to bring a sense of warmth and calm to a space. A luxurious spa bathroom may include a freestanding soaking tub, a large curbless shower or a washlet toilet.
Above photo: Many luxury elements can be found in this transitional kitchen designed by Courtney Zanelli, including custom cabinetry and hand-blown glass pendants. Photo by John Bessler, @johneeebee
Luxury Kitchens and Baths at a Lower Price
The challenge is how these elements can be incorporated without the costs typically associated with luxury design. Designers often are tasked with this and are skilled at finding creative solutions. Under the direction of an experienced designer, clients can be guided through the selection process while being mindful of the budget so as not to break the bank. A balance often can be achieved when one crucial element comes with a high price tag, so others can be adjusted to stay within the budget without compromising the integrity of the overall design concept.
Different Definitions and Needs
When customers indicate they are interested in a luxury experience, what that means for one is not necessarily what it means for another. For homeowners, it's not just about the overall look of the finished space; creating a personalized space is an indulgence that evokes a feeling of luxury.
Some may view luxury in terms of high-end materials. Solid-brass hardware plated in a beautiful finish or unusual natural stone in the form of a slab or a waterjet-cut mosaic are examples of luxuries frequently found in both kitchens and baths. Luxury items in bathrooms can also include heated towel bars or radiant heated floors for chilly mornings.
When client requests include a focus on wellness, items such as water filtration or products with low VOCs may be high on the list. Finding contractors who use sustainably sourced building materials that reduce their environmental impact for some may be the ultimate luxury.
Including the Top Requests
Most kitchen and bathroom design projects begin with a wish-list so that when choices need to be made, the priorities are clear. On that list there may be items in a kitchen such as a refrigerator of a specific size or a range from a certain brand. Perhaps that wish list includes a specific countertop material or a special light fixture. For a large family, luxury may mean two dishwashers or a walk-in pantry for food storage. Designers often are tasked with the challenge of working through a layout while at the same time factoring in those items at the top of the wish list. As a result, they need to find creative solutions to assist clients to identify what's important and invest there.
A client may request a design that evokes a feeling such as comfort or coziness. A moody kitchen, for example, can evolve with the right mix of paint colors and metal finishes and can exude a feeling of luxury. For others, it may be cabinetry that is hand-crafted and built to last. A luxury kitchen also may relate more to function than to form. A kitchen with a variety of third-party inserts for the organization of baking essentials and other tools for meal prep may be the highest form of luxury where there is a place for everything, and both food prep and clean-up have been streamlined.
As luxury in design has become more mainstream, designers today are finding creative ways to introduce these elements into their projects through a variety of different means. As a result, clients are experiencing the ultimate luxury: a custom design built to suit their personal needs.
By Courtney Zanelli, CMKBD