LX Hausys America Opens Viatera Showroom on Long Island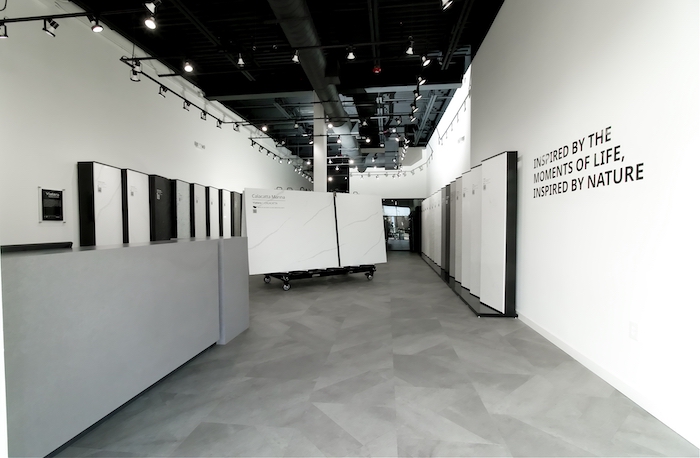 March 11, 2023
LX Hausys America Inc., an innovative manufacturer of building and decorative materials, has opened its first Viatera showroom in Long Island. Located at 1006 Broadhollow Road, Building #4, Space 2B in Farmingdale, N.Y., the new showroom allows homeowners and trade professionals to experience the design possibilities Viatera quartz surface brings to kitchen or bath projects in person. It will also be a resource for connecting homeowners with kitchen and bath designer and dealers, fabricators and other industry professionals. Available for walk-in visits, the showroom is open Mondays from 1 p.m. to 6 p.m., and Tuesdays through Saturdays from 10 a.m. to 6 p.m. Customers can schedule an appointment with a showroom specialist by calling 631-861-4948 or visiting lxhausys.com/longisland.
The showroom is located at SkyDrive, a 13-acre first-class shopping development with well-known consumer and destination brands as its tenants. Situated along the highly popular New York Route 110 corridor, the Viatera showroom is conveniently located and just minutes from the Long Island Expressway and the Southern State Parkway.
"Our new Viatera showroom marks an important day for LX Hausys America and our Viatera quartz surface brand," said LX Hausys America president SK Lee. "For the first time, our partners in Long Island – along with homeowners – have a place to experience our Viatera brand in-person. Additionally, the showroom complements our existing footprint and strategic business objectives in the vital Northeast market. We are excited about this investment and being a part of this vibrant community. We look forward to supporting our partners and customers in this area for many years to come."
The build-out of the newly designed showroom features a modern industrial aesthetic and more than 30 of the most popular Viatera designs. Colors are artfully displayed in large and full-slab formats, providing customers with inspiration and design visions for their projects. Additional products from LX Hausys' HIMACS solid surface brand and its HFLOR resilient flooring brand are also on display, allowing customers to experience the full range of LX Hausys products in one unified environment. Showroom representatives, trained to assist with product information and design ideas, can connect homeowners with local industry partners.
A special event to mark the opening of the showroom for LX Hausys customers and the local community is being planned for later in the spring.
The Viatera brand is defined by its classic and timeless aesthetic inspired by the earth's natural splendor. Consisting of five collections offering a wide variety of beautiful hues and patterns created for any kitchen or bath application, Viatera colors contain up to 93 percent quartz, one of the hardest minerals on earth. Viatera is manufactured at state-of-the-art facilities in the U.S. and abroad and available throughout North America via LX Hausys America's extensive distribution network. Providing exceptional durability, high resistance to staining and ease of maintenance, all Viatera colors come with multiple independent certifications verifying their environmental and health attributes. Viatera is backed by LX Hausys' 15-year limited warranty.
Photo: Jeffrey Siegel/The Mad Photographer