Maytag Offers Mobile Tool to Visualize Appliances at Home Before Purchasing
---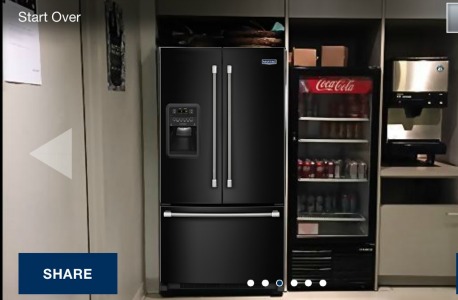 May 22, 2015
With the Bring Maytag Home, mobile tool, shopping for a new appliance is now easier than ever. This mobile tool gives people interested in browsing for new large appliances the chance to view the latest Maytag models on their own terms and in their own homes. Bring Maytag Home gives consumers a simple way to visualize their new kitchen or laundry spaces with dependable products at the touch of a button.
To use the app, you only need to select the product desired and snap a picture of the space.  Then, see what your kitchen or laundry area could look like with new Maytag appliances—including different models and colors. 
Many people would attest there are few things as stressful as shopping for a new large appliance. What could look great in the store, might not look the same in your kitchen or laundry room, and can be hard to visualize. Bring Maytag Home takes the guesswork out of the appliance-shopping experience. 
The Bring Maytag Home mobile tool is compatible on all internet enabled iPhone and Android mobile devices, or can be access by visiting www.BringMaytagHome.com.