Moen Designer Council Accepting Applications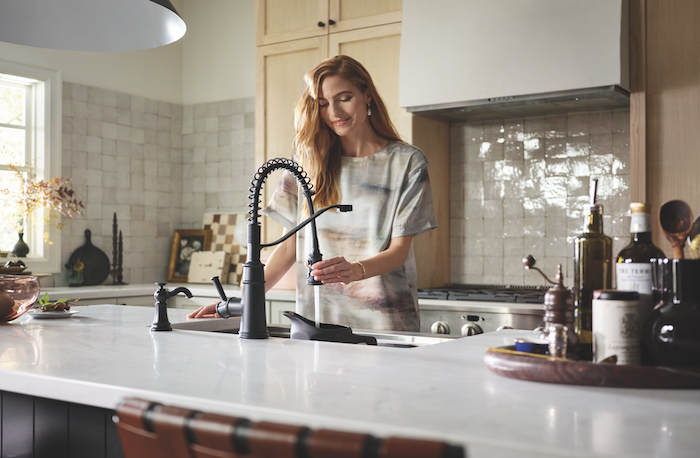 February 18, 2023
Kitchen and bath designers will have a place to guide the future of products, be celebrated for their work, and support one another thanks to the new Moen Designer Council. Organized by the innovative plumbing brand, the Moen Designer Council invites individuals in the industry to apply and claim their place among a select few nationwide.
The Moen Designer Council was created to ensure strong attention to design within the US market. It will be the industry's first in the plumbing category.
"Design drives us, you drive design," said senior segment marketing manager and Moen Designer Council lead, Carole Skees. "User-centric experiences are at our core and the Designer Council will allow us to better define the residential market needs from those who spec and sell to homeowners. In addition to product insight, we also want to collaborate on how to best support the industry, test service concepts and celebrate the design community, closing the gap between manufacturer and designer."
The Moen Designer Council will encompass four guiding principles:
Ideation and Navigation
Open-floor discussions regarding design challenges, trends, and opportunities
Insights and Input
Preview upcoming products, services, and programs by Moen and participate in their refinement
Business Support
– Peers share best practices, troubleshoot issues, and support each other in council meetings and beyond
– Receive custom support to promote your kitchen and bath design business
– Help share the Moen story
Rewards
Partnership has its perks including award application reimbursement opportunities and premium gifts including complimentary Moen product.
In 2023 the Moen Designer Council will participate in two virtual meetings as well as an all-expenses paid trip to the Moen headquarters for a look behind the curtain at the innovation process, collaborate with Moen's industrial designers, and help shape the future of water innovations. Guiding and advising the company will be key, as well as delivering these exceptional experiences back to the consumer. Voices will be heard, creating a unique platform for design discourse and relevant networking opportunities with experts.
Moen seeks to select a diverse group of kitchen and bath designers of all ages based in the United States. Experience may range, and they may represent different sized businesses. Council members must actively work in the single-family kitchen and bath remodel segment, have a passion for the industry, and an intent to deepen their design career. Those selected will receive national exposure.
A panel of brand judges, including senior creative style manager, Danielle DeBoe Harper, will decide the council members and all applicants will continue to receive exclusive content and opportunities from Moen. Applications close March 31, 2023, and those selected will be notified in early April.
"Together, we will make things easier, smarter, and better for kitchen and bath designers. We know we cannot fulfil our mission without them – their time, dedication, and expertise. We look forward to this partnership, as it signifies Moen's continued dedication toward a user-friendly, design-centric future. We look forward to the immediate affects the Council will experience as well as the influence on future generations," adds Skees.
For more information about the Moen Designer Council, click here.