Moen Redefines the Showroom Experience with "Gallery"
---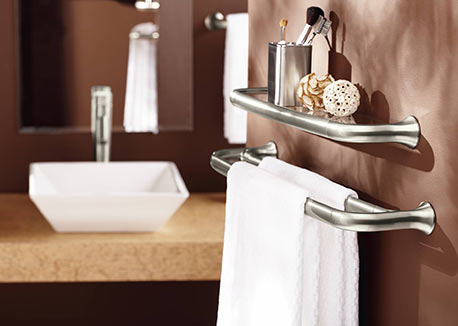 February 24, 2015
Moen has launched a new showroom merchandising solution called Gallery, which is specifically designed to better serve showroom consultants and homeowners shopping for new plumbing fixtures through its holistic display of Moen's complete portfolio of kitchen and bath products.

Blending consumer-focused features with the latest technology, the promotional displays in the Gallery merchandising solution will better inform customers about Moen's complete offering of products during their design selection process.

When designing Gallery, Moen took several variables into consideration, focusing on elements such as:
• Fresh aesthetic. Gallery features an up-to-date, clean, all-white look.

• Enhanced organization. Structured by style and price point, Gallery offers efficient shop-ability, helping clients hone in on the right option for their home, as well as gives consultants the ability to add on incremental elements, such as lighting or accessories, to completely outfit an entire space with ease.

• Touchscreen technology. A digital display creates an endless aisle for customers to shop. The interactive ViewSonic touchscreen and iPad allow consumers to learn more about the latest Moen innovations and help them identify their own personal style.

• Enhanced visualization. Items featured in Gallery are affixed to removable, clear acrylic bases, which can be placed on countertops and vignettes throughout the showroom to give a fully stylized – and visual – picture of the finished look.