Monogram Refrigeration, GE Appliances Subsidiary, Expands Tennessee Facility
September 4, 2023
This article was originally published on September 4, 2023; it was updated on September 11, 2023.
Monogram Refrigeration, GE Appliances Subsidiary, Expands Tennessee Facility
GE Appliances, a Haier company, announced a $34 million investment to expand refrigeration manufacturing and create 150 new jobs at its wholly owned subsidiary, Monogram Refrigeration LLC (MRO), located in Selmer, Tenn. The investment will increase the size of the plant and add new fabrication equipment and an assembly line to build Monogram® and Café™ brand integrated bottom-freezer refrigerators. The expansion will double the available capacity in Building Two, located at 1020 Tennessee Avenue in Selmer. The newly created jobs will make MRO the largest industrial employer in McNairy County.
"We are excited to grow our team and create great new job opportunities in McNairy County and West Tennessee," said Anne Rushing, president of Monogram Refrigeration, LLC. and plant manager. "I want to thank McNairy County and the Selmer/McNairy County Industrial Development Board for their strong and sustained support, and the Tennessee Valley Authority and other partners continued cooperation provided over many years. This is the kind of partnership that is a model for progress."
Monogram Refrigeration's growth and high-quality jobs added since 2018, and the resulting impact, have significantly contributed to the growth of McNairy County's economy. The increased facility space and refrigeration assembly line from the investment will support continued growth of GE Appliances' premium appliance brands. Construction will begin immediately, and the new production will begin in the third quarter of 2025.
"The Selmer/McNairy County Industrial Development Board began discussions in August of 2021 with Monogram Refrigeration regarding a possible investment that would expand the production facility to double its size and add 150 jobs," said Robert Shackelford, chairman of the Selmer/McNairy County Industrial Development Board. "And now, after two years of planning, we are excited to join Monogram Refrigeration and GE Appliances to announce this $34 million investment that will increase the economic impact throughout the region. The Selmer/McNairy County Industrial Development Board is grateful for this opportunity to continue to enhance our partnership with Monogram Refrigeration and GE Appliances."
McNairy County mayor Larry Smith also expressed his support for the partnership. "Monogram Refrigeration has been a tremendous partner for McNairy County and has supported our communities, families, and institutions," said Mayor Smith. "In addition to employing hundreds of McNairy County residents, they also actively support workforce development in our community through assistance to public school programs, as well as encouraging employees to further their education using company-paid tuition benefits."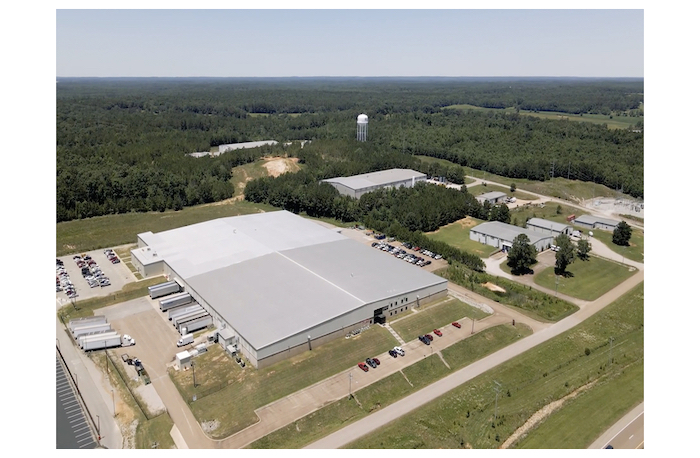 Recent investments at Monogram Refrigeration, LLC in the Selmer facility (above) include:
2018 – $9.3 million investment for two new production lines adding 210 new jobs. The 120,000-square-foot facility expansion added manufacturing capacity, warehousing space and the production of Zoneline® packaged terminal air conditioners (PTACs) and new column-style Monogram® brand refrigerator and freezer products.
2021 – $5 million expansion for production of new Zoneline® vertical terminal air conditioners, or VTACs, commonly used in hotels and private residential facilities.
2022 – Investment to produce a new lineup of fully integrated bottom-freezer refrigerators across the Monogram® and Café™ brands. Available in both French and single-door configurations, these new models were added to the existing columns refrigeration line for availability in 2023.
2022 – GE Appliances and freight mobility technology company Einride successfully completed a pilot of Einride's heavy-duty, autonomous, electric vehicle on public roads moving finished goods from the Monogram Refrigeration plant to a nearby warehouse. This effort was the first U.S. approval for operations of this new type of vehicle from the National Highway Traffic Safety Administration (NHTSA).
Community Support
GE Appliances and Monogram Refrigeration actively support community and educational efforts in McNairy County. In 2021, Monogram Refrigeration and GE Appliances made a four-year commitment to support McNairy County Schools as part of the Skills Training Alliance for Youth (STAY) Initiative, a workforce development program for high school seniors seeking part-time employment as they work to meet graduation requirements. The company also supported the renovation of the Family Consumer Labs at McNairy Central and Adamsville High Schools. In 2020, GE Appliances partnered with several local first responder and community-focused organizations to provide donations of new appliances and additional critical supplies during the pandemic. More recently, GE Appliances responded with supplies and funding to agencies supporting those impacted by recent tornadoes.
Economic Impact
Today, GE Appliances and its wholly owned subsidiaries in Tennessee employ more than 1,150 employees contributing more than $500 million to the state's GDP. GE Appliances purchases more than $385 million annually from 320 Tennessee suppliers, further driving the state economy and supporting thousands of families. Nationally, GE Appliances spends $4.9 billion with 6,300 U.S. suppliers – a 293% increase in spending and a 233% increase in the number of suppliers since 2016.