National Home Design Survey Reveals an Optimistic Summer for Design
---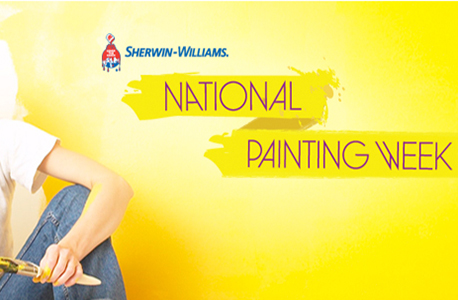 May 12, 2015
Sherwin-Williams National Painting Week comes this year with more than four in five homeowners saying they see opportunity to improve their home's curb appeal, and more than two in three planning a painting project, according to the recent National Home Design Survey, conducted on behalf of Sherwin-Williams.

"Home improvements significantly impact how you feel while living in your home," said John Gidding, interior designer and landscape architect. "This is especially true for curb appeal, and this time of year is perfect for sprucing up your space." 

To inspire homeowners, Sherwin-Williams is kicking off National Painting Week today with color inspiration, painting ideas, expert tips on how to increase a home's curb appeal, product information and DIY and designer projects – all available at swpaintingweek.com. 

In addition, Sherwin-Williams is partnering with local affiliates of the Boys & Girls Clubs of America and Canada to help bring a colorful refresh to these deserving community organizations across the U.S. and Canada.


Survey Highlights: Opportunity for Improvement
Homeowners chose landscaping as their first choice for improving curb appeal. Painting, which can be an affordable way to freshen up and improve any home's exterior, also rose to the top of the list. Exterior painting projects range from repainting the front door, to adding a fresh coat of paint to a fence, to repainting the entire outside of a home. 

In thinking about how to get these projects done, homeowners said they'd choose to landscape and paint the interior of their home themselves but are more likely to hire a professional for outdoor painting projects.

Adding Color to Local Communities
As part of National Painting Week, thousands of Sherwin-Williams employees will join forces with painting contractors to refresh hundreds of community organizations across the U.S. and Canada. Sherwin-Williams will also donate paint and supplies for these projects.

A few of this year's inspirational projects include repainting the 2.4 mile long Seawall mural in Galveston, Texas; repainting a center that helps refugees find employment and receive medical treatment in Louisville, Kentucky; planting trees, painting and beautifying a popular park in downtown Indianapolis; and repainting more than 100 local Boys and Girls Club locations.

For additional information on National Painting Week 2015, visit swpaintingweek.com or follow the conversation using #swpaintingweek.