New Report from American Council for an Energy-Efficient Economy Finds Energy Efficiency Works
---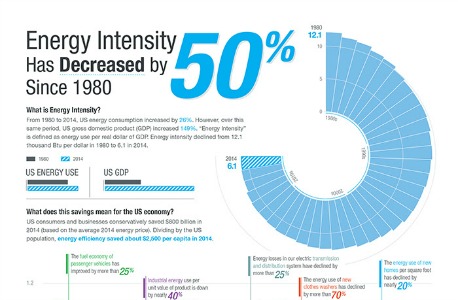 July 8, 2015
Advances in energy efficiency have spurred economic growth and jobs, lowered bills and allowed consumers and businesses to save about $800 billion last year. Energy efficiency has made major strides in the United States in the last 35 years, with "energy intensity" – the measurement of energy used per dollar of gross domestic product – down from 12.1 thousand Btus per dollar in 1980 to 6.1 thousand Btus per dollar in 2014, according to a major new report from the non-profit American Council for an Energy-Efficient Economy (ACEEE).
ACEEE found that about 60 percent of the improvement in energy intensity over the report's 35-year period was due to energy efficiency and about 40 percent to major structural changes in the economy. The bottom line is that just the energy efficiency portion saved US consumers and businesses about $800 billion in 2014, roughly $2,500 per capita. Even though U.S. energy use edged up by 26 percent from 1980 to 2014, the U.S. gross domestic product (GDP) increased by 149 percent.
Issued to mark ACEEE's 35th anniversary, "Energy Efficiency in the U.S.: 35 Years and Counting" also looks ahead and concludes that "(w)hile much progress has been made, there are large and cost-effective energy efficiency opportunities that, by 2050, can collectively reduce energy use by 40-60 percent relative to current forecasts."
The ACEEE report is available online at aceee.org/research-report/e1501.