New System Protects Homeowners from Water Damage
---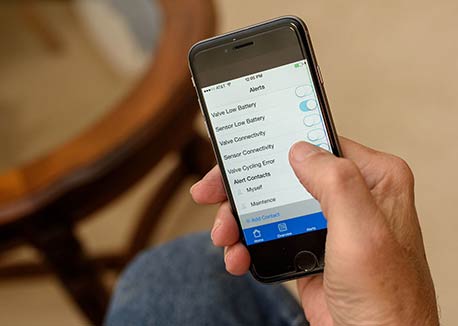 January 15, 2015
As frigid weather threatens parts of the U.S. this winter, the leakSMART system is looking to reduce this winter's potential havoc. The new product by Waxman Industries, is a home water protection system that can automatically shut-off a home's water supply when pipes are near freezing levels or when a water leak is detected – in less than five seconds. The homeowner is also immediately notified via their smart device.
According to the Insurance Information Institute, nearly 25 percent of all homeowners' insurance claims are from water damage and freezing. The leakSMART system is installed on a home's main water supply, and when its wireless and waterproof sensors are placed throughout the home near everyday appliances and plumbing fixtures, both water leaks and temperature variances are detected and monitored.
Through the leakSMART app, the homeowner can set alerts for various temperature settings and determine the temperature when the water should automatically be turned off in the home. The app also allows the homeowner to remotely manage the home's water shut-off valve. The leakSMART system includes a patented, automatic water shut-off valve, wireless and waterproof leak detection and temperature sensors, a system hub, and app.
The stand-alone leakSMART system can also be integrated with many of today's other smart home solutions, including Nest Laboratories, SmartThings, iControl, and OpenHome.