One Month Countdown to ICFF: Top 10 Things to See and Do
---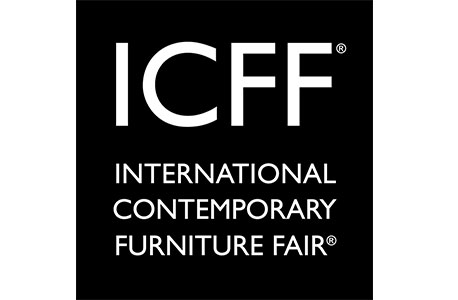 April 27, 2015
In four weeks, more than 32,000 design professionals from around the globe and across the country will descend on New York City to explore and experience what's best and what's next in global Design at ICFF 2015. Here's a list of the top 10 things not to be missed at the 27th edition of ICFF.

More Features, More Space
Doubling in size to encompass two levels of the Javits Center, the show will feature more than 700 brands (plus 257 first-time exhibitors) within 247,000 sq. ft. of exhibition space. Plan your visit by utilizing the show floor plan and see a complete list of exhibitors at the newly re-designed ICFF.com.
ICFF Opening Night Party at MoMA
Saturday, May 16, 2015
7:00-9:00PM
Presented by ICFF & Luxe Interiors + Design at the Museum of Modern Art, The Abby Aldrich Rockefeller Sculpture Garden, Design and Architecture Galleries. ICFF attendees can purchase admission tickets as part of their ICFF registration. Media can contact Kristen Jenkins at kjenkins@whitegood.com for inquiries.
ASID at ICFF
The American Society of Interior Designers (ASID) returns to ICFF with an expanded educational program for industry professionals and a new student day program.
Positioned on the show floor, the ASID educational series brings together thought leaders and industry experts to present insightful content throughout ICFF. Sessions will appeal to a cross-section of design markets and will include topics on business practices, design's impact on human health and wellness, housing trends and materials. Registered session attendees will earn 0.1 Interior Design Continuing Education Council (IDCEC) approved continuing education units (CEU) per session. See full ASID at ICFF information on ASID.org and register to attend. (Note: Education session attendees must register to attend ICFF separately).

HO.MI. New York Pavilion
The preeminent Italian Lifestyles Fair, HO.MI, held bi-annually at the Milan Fairgrounds comes to ICFF!
Experience the beauty, style and elegance of Italian design presented by more than one hundred leading brands and emerging talent all direct from Milan. Explore Italian style in furniture, lighting, wall coverings, carpets, flooring, kitchen & bath, accessories and more.
Luxe Interiors + Design Pavilion
Prensented by Luxe Interiors + Design, this new exhibition is dedicated to high-end contemporary and classic interior design, architects, interior designers, decorators, and developers to apply to their next luxury design challenge. Top brands will feature the best in furniture, lighting, accessories, art objects, materials, flooring and more.

ICFF Talks
Each year, ICFF brings together innovators and top designers from around the world to participate in ICFF Talks. This year's line-up includes topics on innovation in materials, the rise of connectivity in design and new design approaches in color and style for residential, hospitality, contract and luxury retail environments. Visit icff.com/conference/icff-talks/ for a complete schedule of Talks.

ICFF Studio
For the past decade, ICFF and Bernhardt Design have partnered to present the very best emerging American and global designers through the ICFF Studio program. True to form, the tenth anniversary of ICFF Studio will introduce eleven talented and ambitious young designers at the 27th annual ICFF.

ICFF Editors' Awards
ICFF convenes the industry's top editors and invites them to scout the floor of the Javits Center to find the 'best of the best' of the year's design crop. With design winners in 16 categories, will your favorites make the list?

ICFF Schools
Discover the next wave of designers as several of the country's top design schools showcase their best student design work. This year's participating schools include:
New York School of Interior Design
University of Cincinnati
Rhode Island School of Design
School of Design, Syracuse University
University of Iowa
Virginia Tech, School of Architecture + Design CAUS
San Diego State University
Florida State University
University of Oregon
One school will also be awarded an ICFF Editors Award for "Best Design School."
ICFF Public Day
Tuesday, May 19, 2015
10:00AM-4:00PM
You don't have to be a design practitioner to experience the inspiring designs of more than 700 brands from around the world. On Tuesday, May 19, ICFF opens its doors to the public.
Whether you're looking to add pizazz to your current style by acquiring a few carefully selected pieces – or planning a total makeover for a room or a home, bring your designer – and your wish list. Tickets are $60, may only be purchased at the door with a credit card and are non-refundable.