Patricia Urquiola Designs the New Laufen Showroom in Madrid
---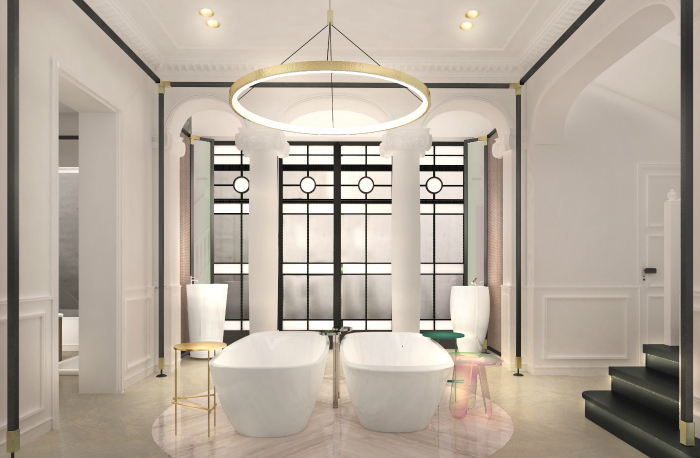 October 28, 2016
For its new showroom in Madrid, which opens in November, Laufen has turned to award-winning designer Patricia Urquiola. With an area of almost 200 sq. m., the showroom is located in a historic villa from the early 1900s. Organized on two levels, it is a completely different, more engaging space than the previous showroom location. In this facility, which is exclusively for architects and designers, Urquiola brilliantly narrates the spirit of the Swiss company and has applied a more sensitive approach.
Urquiola, a designer of Spanish origin who resides in Milan, has responded to the company's expectations by generating a space of vivid experience. It is a realistic, informal setting that is ideal for welcoming industry professionals to a new showroom concept, more like a training center, where technicians and architects can meet and work together.
The shared perspectives of the philosophy of Laufen and Urquiola are rigor and functional quality. These aspects are reflected in the environment and enhanced by its ability to trigger emotions, creating a rapport between the viewer and the collections on display and stimulating the designer and architect to make Laufen products a part of their projects.
Urquiola uses a modern language to interpret the interior of the villa, in a more flexible and international way. Every room is framed with a tubular natural black iron frame embellished with a gold galvanized finish in the corners. The colors and the materials take inspiration from materials used in the design of bathrooms: marbles mixed with onyx, mirror glass, resin, oak wood and iron in light tones, with contrasting points of color.