PELLE Opens New Showroom
---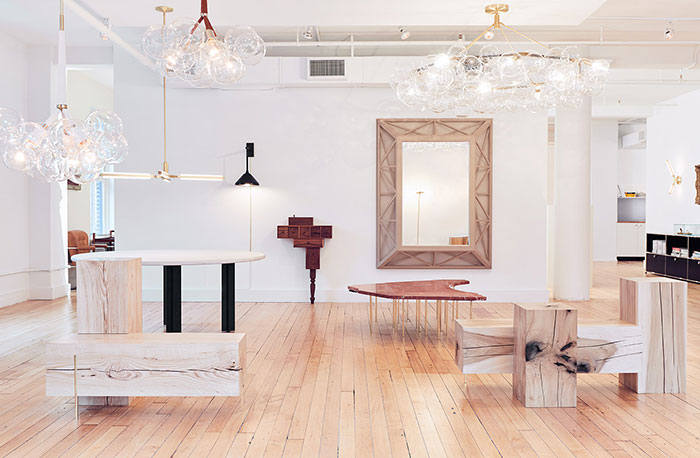 November 8, 2016
PELLE, an independent design studio, has opened a new showroom and studio on the 8th floor of 56 West 22nd Street in New York City, New York. The PELLE studio is led by Jean and Oliver Pelle.
The elevator door opens up to the new showroom, roughly 1,500 square feet (out of the 5,000-sq.-ft. space). In addition to their existing lighting and furniture lines in the showroom, PELLE has designed new furniture pieces made especially for the space including a cabinet, benches and tables which are part of their new "Lost and Found" collection.
The expanded studio consists of two lighting bays, a tool room, a project room for experimentation and a kitchen and dining area where the staff can sit and eat together. Throughout the studio will be new custom ceiling lights, "Hats." In this new space PELLE will be able to make not only larger work but more imaginative work.
Jean and Oliver Pelle met while pursuing while pursuing their Masters in Architecture at Yale University.
Jean Pelle was born in South Korea in 1976. The daughter of a professional sculptor, she was always drawing and painting and often assisted in her father's studio. She earned her Bachelor of Art in Architecture from UC Berkeley in 1999 and worked for several years at EHDD Architecture in San Francisco. She then went on to earn a Master of Architecture from Yale University in 2005 and upon graduation worked for her professors at the renowned Manhattan architecture firm Tod Williams Billie Tsien Architects. In 2008, Jean left to establish her own studio to pursue a career that combined her lifelong passion of design and making.
Oliver Pelle was born in Germany in 1975. Geometric principals and systematic structures have always fascinated Oliver, the son of a structural engineer. An avid admirer of Mies van der Rohe, Oliver left Germany to begin his undergraduate studies at the Illinois Institute of Technology, the architecture school led by Mies van der Rohe. He earned his Bachelor of Archutecture with Highest Honors in 2000. His studies included a year abroad at the Bartlett School of Architecture in London and an internship at Switzerland where he worked for Mario Botta Architects. He earned a Master of Architecture from Yale University in 2004 and then went on to work for Yale's dean, Robert A.M. Stern In pursuit of establishing his own design practice, Oliver left after seven years to co-found PELLE with Jean in 2011.