Pirch Partners with Forza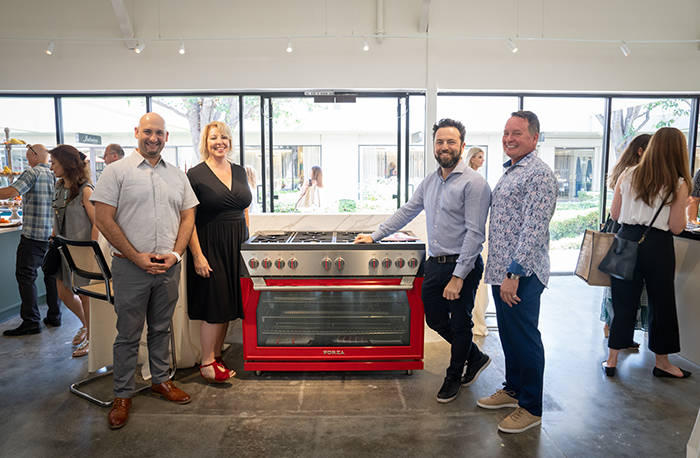 December 19, 2022
Forza, the ultra-premium Italian appliance brand, has partnered with Pirch to display the world's first and only 48-in. Professional Gas Range with a single oven cavity at the Laguna Design Center showroom in California. The prestigious partnership was fostered by premium West Coast distributor NEVE.
"Forza products have a sleek design while being highly functional, so we're proud to bring together this partnership in our Laguna Design Center," said Steve Smith, CEO of Pirch. "Forza's unique offerings are bold and beautiful and offer a great cooking platform making them the perfect fit for our discerning SoCal clientele."
Pirch showrooms promise guests and the design trade an elevated experience that will educate and inform, whether shopping for a single appliance or seeking inspiration for a complete renovation. The brand's famed "try before you buy" concept is accomplished in working kitchens where a curated selection of the world's best appliances can be tested. Highly trained experts are ready to service a project from inception to delivery and installation, providing the industry's leading "peace of mind." In addition to the Laguna Design Center, Pirch has showrooms across California in Costa Mesa, Glendale, Rancho Mirage, and San Diego.
"It was amazing to introduce our brand and radical Italian design during Pirch's 'A Day of Gratitude,'" said Marco Guerzoni, Forza director of marketing and product development. "We're very grateful to Pirch for the opportunity, and we've been thrilled with designer's reception of our products at the Laguna Design Center so far."
NEVE Distributing is a premier West Coast appliance distributor. Since 2018 its reputation has grown through distributing luxury brand name appliances, as well as quality customer service. The culture of Italian appliance manufacturers such as Forza and NEVE Distributing's desire to grow the market for design-forward Italian products in the Western U.S. is a natural fit. 
"NEVE has been focused on connecting Forza's beautiful premium product line and with designers in the Southern California region, and this is a great opportunity to reach that audience," said Jason Walsh, president at NEVE Distributing. "Pirch's Laguna Design Center is a well-known and illustrious showroom, and we're excited to bring Forza's race car luxury design to their show floor."