Porro Opens New Milan Showroom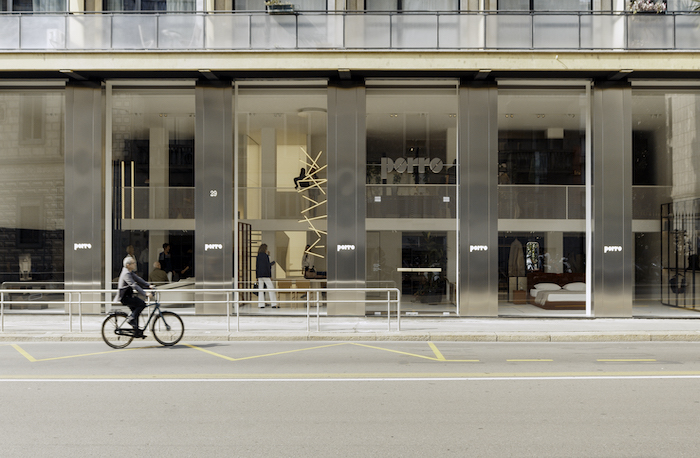 October 28, 2023
The new Porro showroom in via Visconti di Modrone 29 officially has opened in Milan, confirming its ever-changing interior concept.
"Porro is a company that has always tried to overcome its limits by moving, each time, with a different creative spectrum. After almost 20 years in via Durini, once again we have changed the rule, deciding to move to a completely unexpected place, very visible and with a particularly special architecture," said Piero Lissoni, art director of Porro.
"This year Porro changes house and arrives between via Visconti di Modrone and via Ronchetti, in a very special space, nestled between a busy street and a secret street in Milan. It is a space that has double-height ceilings, multiple levels and gives us the possibility of making an architectural story, interpreting our systems as real architecture. A true full immersion in Porro design, but also a meeting point with architects to develop new tailor-made projects together," said Porro head of marketing and communication Maria Porro.
A building with a dual soul, with its six high-visibility windows framed by steel-clad columns on the central Via Visconti di Modrone and the large industrial windows at the back framing the pedestrian Via Ronchetti, with hidden glimpses of old Milan, the new showroom offers a multi-level interior full of design possibilities all to be explored: New challenges for Porro's ability to furnish custom spaces with artisanal precision, declining its architectural soul in unprecedented installations.
Piero Lissoni's architectural project transforms the new showroom into a pure and linear white box, a conceptual place where things happen and whose six windows become like monitors over the city. The space is spread over two floors with a mezzanine on the first floor. The stairwell – a parallelepiped whose walls are covered with full-height mirror with a backlit opaline back – is the centerpiece of the space. The suspended white sheet metal staircase is like an origami ribbon.
In a pathway flooded with light and punctuated by full-height and full-length volumes and moving partitions, Porro unveils its world, in which the company's systems, true complex but flexible architectures, design spaces in an original way, dialoguing with the product collections: objects characterized by pure geometric shapes, technological details, and research on materials and finishes, signed by leading names on the design scene.
From Gorlan's sartorial carpets and Flos lamps, ranging through the pictures, paintings and ceramics related to architecture by the Antonia Jannone gallery, without forgetting Archivio Alessandro Mendini sculptures and Bruno Munari's ancestor faces by Corraini Edizioni, two designers with whom we have always been very close. Our wardrobes are embellished by the original clothes and stage costumes from the workshop SlowCostume with the sculptural hat creations by the designer and artisan Francesco Ballestrazzi, while the abstract works in blown Muran glass by the artist Michela Cattai and the wooden houses by Matteo di Ciommo and the art, design and photography books by Skira are chosen to complement our bookcases and pieces of furniture. With a mix of proposals for sale and works of art only to be admired, more than a store, Porro Milano wants to be a very special place, where you can linger letting yourself be guided by suggestions, and each thing has its own unique story and is chosen with love as Porro furniture is: a space that lives, in continuous transformation." Maria Porro
Even the lighting is special, combining the bamboo lamps proposed at the last Salone del Mobile, in the name of naturalness and harmony, with the cascade of glass tubes made for the opening of Porro's first Milanese showroom in 2004, a true work of luminous art: both designed by Piero Lissoni and made by Porro as custom products, and carefully preserved over the years, tell of the company's ability to place itself next to designers, and concretize ideas that previously existed only in thought or imagination.
Interiors under the banner of diffuse design, which calibrate architectural rigor, industrial precision and accurate craftsmanship, in a result of absolute simplicity.
Inside the Porro Showroom
In the first double-height dining room, the sculptural forms of Piero Lissoni's Materic Ovale table in solid Latte ash enchant with delicate shades of nature, paired with GamFratesi's Voyage chairs with an exposed frame in solid turned maple and leather upholstery. A showcase that is precious to the touch and to the eye, Piero Lissoni's Ex-Libris lights up the space thanks to its metal structure painted in rosso antico: a perceptually striking choice contrasting with the base and top for the first time offered in white cherry.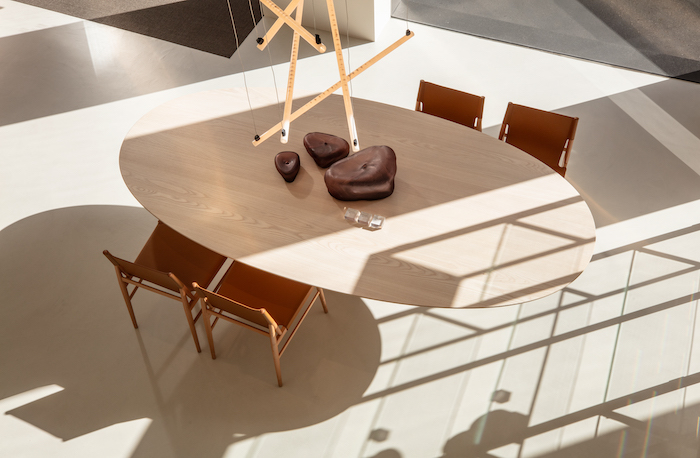 In the living area, one converses pleasantly on the Kite Sofa and armchairs by GamFratesi with their plastic fan shape, simple volumes of exquisite elegance, arranged around the iconic Ferro low table by Piero Lissoni with sensual curvature in a bronze finish. On the wall is a large wall-mounted composition of Modern, Porro's system of storage units for the living area, raised from the floor and combined with a stainless steel Roc board. Its dynamism springs from the pleasant graphic play of the hinged doors in dove-colored lacquer, contrasting with the open modules in the new strongly textured black river essence, also chosen for the interiors of the Window display cabinets with transparent sides, which emerge as contemplative voids in the composition. A project with a precise creative identity, capable of evolving year after year and surprising with a new appeal, unexpectedly combining 19 woods and 29 lacquered colors with the metals, glasses and marbles of the Porro collection.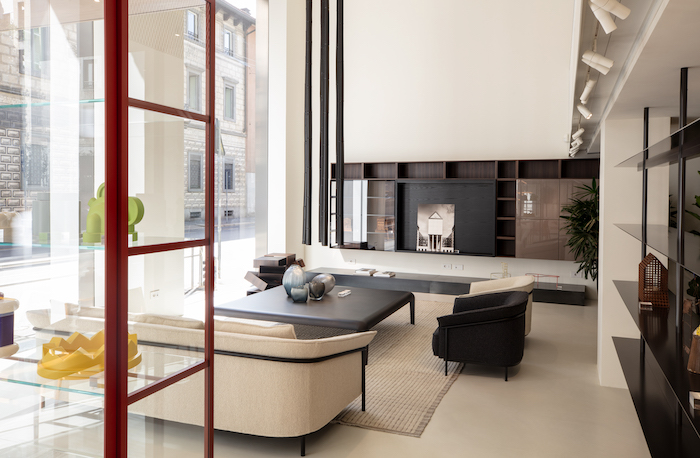 Conceived with an extreme desire for abstraction, Boutique Mast, Porro's system of nautical lightness and graphic linearity that serves as a passe-partout between the sleeping and living areas, is offered here in a bookcase acception with its slender metal shelves that act as a filter for the office area.
In the niches on either side of the staircase, the striking new Linea storage furniture, designed in 2015 by Alessandro Mendini and presented by Porro this year following an archive research with Fulvia and Elisa Mendini, are displayed as pieces of an art collection. With full parts with geometric optical motifs in cellulose acetate juxtaposed with colorful empty spaces, these pieces in a limited edition of 50 bear witness to the search for a decorative richness that eschews tout-court minimalism and prefers an emotional connection with the furnishings that surround us.
Highlighting the access to the wardrobe area beyond the staircase are two central Acquario chests of drawers by Piero Lissoni with cuvée frames, crystal shelves, and white cherry base and drawers. Freely inspired by Japanese house patterns, Glide Miru and Glide Samurai sliding partitions alternate black painted straw and glass surfaces, framed in white cherry, screening the hidden area behind them in a surprising way. Here the Storage Boiserie design Piero Lissoni + CRS Porro chooses white cherry shelves and drawer units with glass fronts, which emerge as architectural volumes from the backs covered in black straw, also thanks to the new integrated lighting.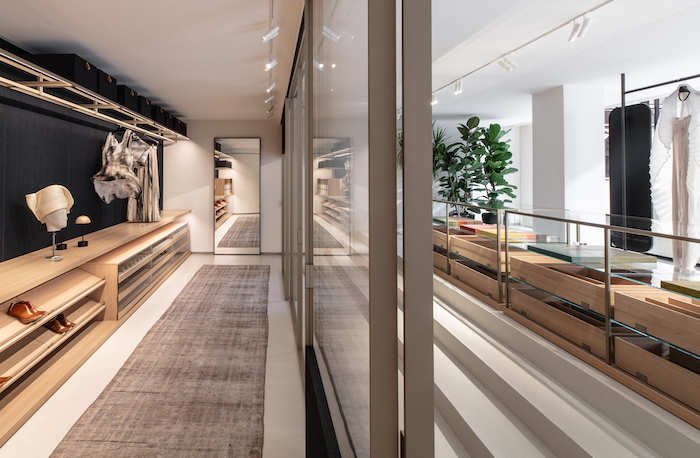 The bedroom is dominated by the soft lines of Piero Lissoni's Byron bed with a bed frame upholstered in burgundy bouclé fabric, soft headboard pillows for lingering reading before falling asleep, and a screen with a black-stained solid ash frame enclosing a light-colored plain straw weave. Savoir-faire and a passion for wood also distinguish the Byron bedside table open-pore lacquered in the new orange red, the latest addition to Porro's color palette. It serves as the backdrop for the Boutique Mast bedroom area, shown in the walk-in closet variant with circular-section iron uprights, frassino white shelf and side mirror.
The Storage Battente closet wears iron doors in transparent crystal, which leave the structure visible in the new light wood, ash white, combined with black painted metal elements: refined black&white chromatics highlighted by luminous transparent crystal shelves. For a moment of relaxation, the new Romby armchairs are proposed, releasing a new unprecedented feeling of softness and naturalness, thanks to the armrests and the practicality of 4 central legs in black-stained ash. The art of inlaying lives again in the Inlay chest of drawers by Swedish designers Front, which meticulously alternate 4 different shades of oak for a decoration with a three-dimensional effect.
Going up to the mezzanine floor, in the balcony the single-material Load-it bookcase with steel shelves and panels is an ideal solution for enhancing a passageway space, creating a bookcase with a home-working station and integrated lighting, with a modern writing top in black-stained ash. The scene is completed by the Romby chair in red fabric with a conical base in solid natural ash, designed by GamFratesi in 2020 and which has tiptoed into the "manifesto" object of Porro design, capable of immediately describing the geometric purity, the manufacturing excellence and the artisanal flavor that define the brand.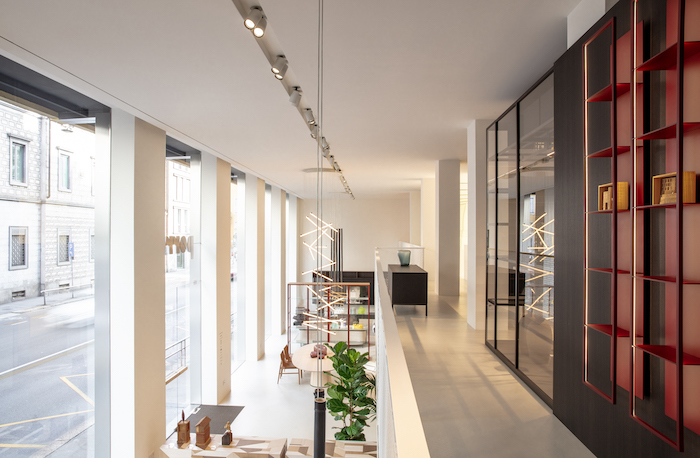 For a dining room/office that knows how to give different glimpses at every point of view is chosen Ryoba table signed by Piero Lissoni with inclined legs with triangular section and top in solid olive ash wood, together with Nebbia chairs by Piero Lissoni, distinguished by softness of curves, sculpted use of wood, grace and reserve. A long System bookcase designed by Piero Lissoni + CRS Porro is presented in a full-height composition with practical staircase in the new black river essence, which exhibits pronounced wood grain for a vibrant and sensory space for those who love intense and decisive atmospheres.
The journey ends in the true heart of the Porro home, the dressing room, the quintessence of the brand's customization capabilities.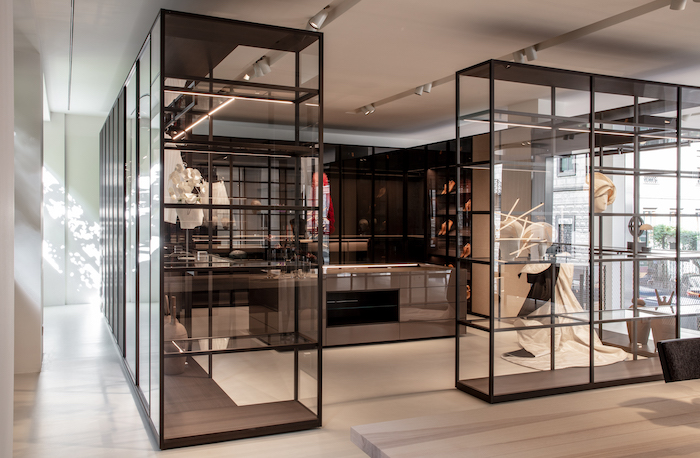 The Storage corner dressing room, designed by Piero Lissoni + CRS Porro, alternates transparent compartments, fully open or enclosed by glass doors, with compartments closed by the new Portrait doors in rope-colored fabric. The moka finish with warm tones is chosen for the structure and metal parts in the new reduced profile of only 25×25 mm, which helps to lighten the composition and also makes possible the perfect integration between the different types.
Storage backs and fittings are chosen in the intense notes, lightened by delicate streaks, of the new eucalyptus23, one of the refined textures available for Porro closet interiors, selected and produced exclusively for the brand combining resistance and high aesthetic values. In the center of the room, the new Storage Isola drawer unit in tortora lacquer incorporates the standard equipment that makes the Storage night system unique and combines them in an infinite range of possibilities, creating a multifunctional storage unit to complete the dressing room in domestic contexts, as well as in the most refined contract settings.
Architectural vision and clean lines, technological details and emotional finishes: in the spaces of the new Porro Milano showroom, collections and systems vibrate with unexpected colors and nuances, revealing in ever-changing atmospheres the brand's custom design service. Thanks to a revolutionary, state-of-the-art production plant that has eliminated warehouse stocks by working just-in-time, with excellent results in terms of panel cutting and coating quality, customization capabilities, waste reduction and sustainability, Porro has the ability to create ever-changing unique projects as this showroom demonstrates, interweaving its expertise with the desires and dreams of clients and designers.
Photo credit: Sfelab