Re-Bath Expands East Coast Footprint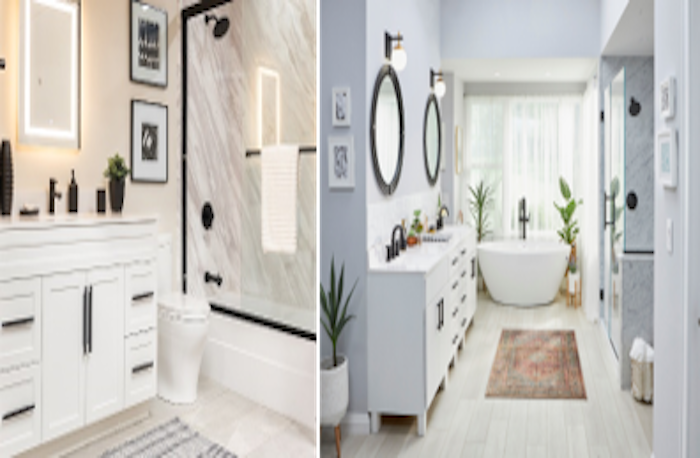 November 19, 2023
Re-Bath, the nation's largest complete bathroom remodeling franchise, has announced a signed agreement in Buffalo, New York. A first for the brand, Re-Bath will enter a new market in the state while continuing to grow its footprint across the East Coast. With large retailer partnerships contributing to the brand's growth and market share gains driving nearly a 31% YOY increase in systemwide sales, prospective franchisees are flocking to the Re-Bath franchise opportunity.
New to the Re-Bath system are first-time franchisees and husband-wife duo, Justin and Stephanie Britton. While this is their first step in the franchising world, the Brittons are experienced entrepreneurs who have been running their own contracting business for several years. Prior to founding their independent business, Justin spent 15 years in various sales positions within the building/construction industry. Together, the Brittons have grown their business to over a million dollars in annual sales.
Upon learning of Re-Bath and its franchise opportunity, the goal-oriented entrepreneurs knew that becoming franchisees would be the avenue to take their success to a new level. In addition to scaling their business, the Brittons look forward to providing valuable employment opportunities and completing quality jobs that consumers feel good about.
"I've been in this industry for more than 20 years and worked with a number of brands, but Re-Bath stands out far above the rest," said Justin. "The business model and systems in place gives Stephanie and I an opportunity to bolster what we already do. Our top goal is to ensure everyone feels the success of our business – from customers, to employees, to the Re-Bath system."
As the largest bathroom remodeling company in the United States, Re-Bath has established a proven business model, unparalleled franchise office support, and an infrastructure for growth as it continues to seek strategic franchise partners to expand its footprint nationwide.
"Aligning with franchisees who understand the industry and possess a natural drive to succeed will keep us on a solid upward trajectory," said Brad Hillier, CEO of Re-Bath. "The Brittons are already a great addition to our system, and I'm confident they will be great representatives of our brand to the residents of Buffalo. For those looking to join a growing franchise brand, upstate New York is ripe for the taking."
With development surging across the region, Re-Bath is looking for entrepreneurs who are ready to stake their claim in the booming home improvement industry. Earlier this year, the brand announced a two-territory signed agreement for New York that will service Suffolk and Westchester counties. With an additional four territories available in upstate New York, company leadership has identified the state as a prime area for growth, in addition to Vermont and Maine.
The impressive growth achieved by the brand has not gone unnoticed as Re-Bath recently earned the No. 283 spot on Entrepreneur Magazine's 2023 Franchise 500®, the world's first, best and most comprehensive franchise ranking. Re-Bath also ranked No. 2 on Qualified Remodeler's Top 500 Nationals List and was recognized as No. 1 in the "Best Bathroom Renovations" category on Bob Vila's 2022 Best Home Improvement Contractors of 2022 Ranking. The franchise is building off this momentum for repeated success throughout 2023, with a goal of awarding 25 franchise agreements while strengthening performance and same-store sales.
Photo credit: Re-Bath