Report Shows Need for Quality Certification of Showroom Cabinetry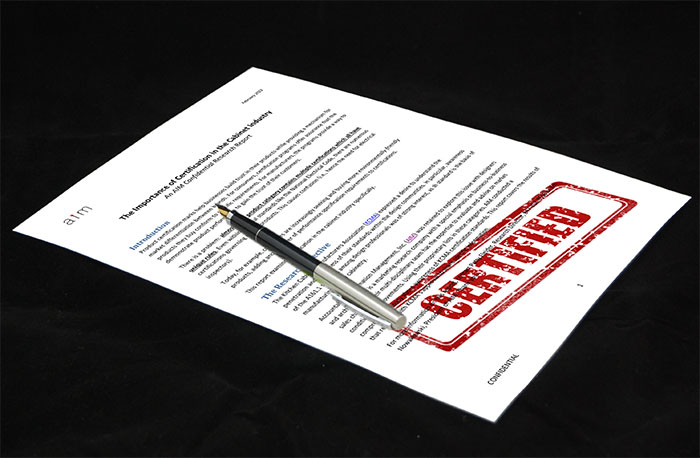 April 27, 2023
A new research report on how quality certification helps kitchen and bath showrooms build trust in the products they sell and recommend while providing market differentiation between brands is now available from Accountability Information Management Inc. (AIM), a leading research company in the B2B space.
Called "The Importance of Certification in the Cabinet Industry," the 26-page report was commissioned by the Kitchen Cabinet Manufacturers Association (KCMA). The association wanted to understand the penetration and awareness of KCMA standards within the kitchen and bath communities. KCMA agreed to share some of its proprietary results.
"Product certification marks help businesses build trust in products while providing a mechanism for market differentiation between brands," said Jim Nowakowski, president of AIM. "For architects, certification programs offer assurance that the products they specify conform to specific requirements. For manufacturers, the programs provide a way to demonstrate product performance to gain the trust of their design community. This research proves that and will be invaluable to architects as they position their own companies to take advantage of certification processes."
The new research contains charts, graphs and verbatim comments from the design community members who participated in the study and includes a section that details the KCMA A161.1 Quality Certification Seal. This is the certification that contains structural, drawer, door operation and finish requirements for cabinets. In addition, there is an audience profile of who participated in the research, including illustrations on why participants feel certification is important.
The report also brought out the growing importance of sustainability to kitchen and bath professionals, which KCMA addresses in their certification processes.
"Sustainability is jumping to the front of the line when it comes to certification considerations for businesses," said KCMA CEO Betsy Natz, discussing the KCMA Environmental Stewardship (ESP) Program. "People want to know the product will perform, as well as where and how it is made, how it got to where it's going, and other factors."
As a comparison basis, the report also utilized the number of times certifications are placed in actual construction specifications.
"This eye-opener showed that even well-known standard bodies don't cover the gamut of specifications that you would expect," Nowakowski said. "We looked at 525,148 projects that had any kind of certification listed, and surprisingly, the call for certification is often left out of documentation when it should be there. KCMA wants to change that for inclusion of cabinetry certification."
Branding, Sustainability and Certification
A key part of the study is examination of the important factors of selecting a brand. These were quality, durability and style according to respondents.
"The research pointed out that while the environmental practices of the manufacturer were at the bottom of the selection criteria, that's going to change," Nowakowski said. "Our other research is showing consumers are driving manufacturers to be better stewards of our environment. KCMA certification covers that as well." 
There were three key takeaways that would bring certification and its importance upfront — education, marketing and content.
"For cabinets, we believe the study outlines some clear directions for KCMA that might also apply to other certification organizations," Nowakowski said. "KCMA, in allowing AIM to share some of their data and findings, believes that the industry itself can benefit from knowing about certification, its processes and how it differentiates their members."
To download a copy of the report, go to the AIM website here and fill out the form.