Ronbow Corporation Introduces New Brand, Ronbow Essentials
---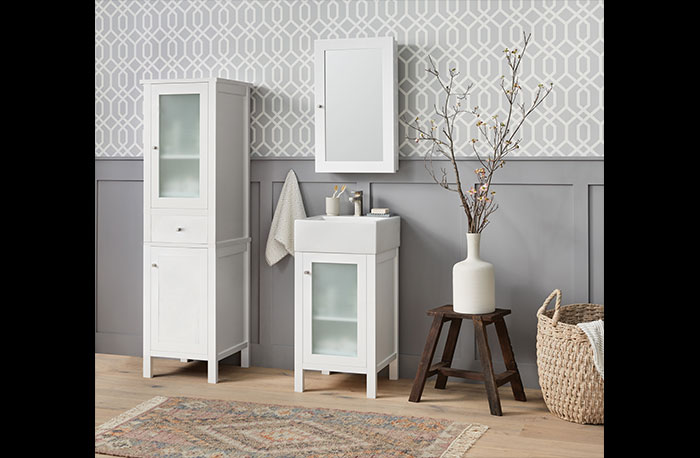 July 24, 2017
Ronbow Corporation announced today an expansion into entry-level priced products with the launch of its new brand, Ronbow Essentials. Available this fall, this is the third product brand for the company, which will join Ronbow Corporation's existing brands, Ronbow and Ronbow Signature.
The new brand aims to open the door to a new consumer demographic for the company and satisfy today's retail and design marketplace challenges, while also maintaining Ronbow Corporation's position as a leader in the bathroom products category. Furthermore, the company's product assortment strategy responds to a demand from their retail and distributor network, who have requested a solution in filling the gap previously not served with their core bath furniture line (Ronbow) and their 'best-in-class' European designed suites (Ronbow Signature).
Inspired by today's trends, Ronbow Essentials products appeal to all ages, genders, homeowners and renters who share a common desire of great designs, a depth and breadth of styles, and a multitude of configurations for the bathroom. With very attractive price points that appeal to first-time home buyers, renovators, project builders and any consumer looking for bath furniture and storage solutions. The new curation of products will still meet Ronbow Corporation's fundamental standards and core qualities shared by all products created by the company in effort to ensure quality, durability and functionality are not compromised.
"It is important to us to create a new brand of products accessible to first time homeowners that are just as well-designed and crafted with the same attention to detail as our Ronbow and Ronbow Signature brands," said Ronbow CEO Jason Chen. "The new category gives our company the opportunity to reposition our current Ronbow and Ronbow Signature product offerings and curate a pared-down, meaningful selection of products for consumers at a broad range of price levels."
With the addition of the Ronbow Essentials brand, the company will reset each brand's product offerings and reclassify some existing product collections. In doing so, Ronbow Corporation intends to expand its current curated collection of products from Ronbow and Ronbow Signature while driving new growth into channels that were not previously focused on by the sales network.
In order to increase visibility and accessibility to this new consumer demographic, this fall all Ronbow Essentials products will be available to purchase directly from ronbow.com, as well as through the company's established authorized e-commerce partners and traditional dealer networks. Ronbow and Ronbow Signature branded products will still only be available to purchased through the company's current distribution channels.