Ronbow Launches Redesigned Website with New E-Commerce 
Marketplace
---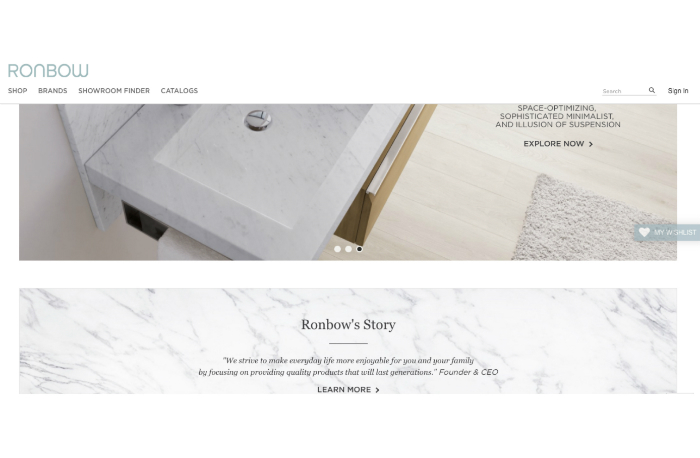 October 2, 2017
Ronbow Corporation, the global manufacturer and distributor of bathroom furnishings, has introduced its new website: www.ronbow.com. The new website offers architects, designers and specifiers a comprehensive resource to discover and explore products from the Ronbow Signature, Ronbow and Ronbow Essentials brands for home design projects (Ronbow's better, best and good categories, respectively). Additionally, an e-commerce marketplace for the Ronbow Essentials brand will launch later this fall on the website, providing access to Ronbow Corporation's entry-level product category, offered at their published retail price points.
The website redesign is part of Ronbow Corporation's strategy to help satisfy today's retail and marketplace challenges. To increase visibility and accessibility to the new entry-level demographic, all Ronbow Essentials products will be available to purchase at retail price directly from ronbow.com, as well as through the company's established authorized e-commerce partners and traditional dealer networks. Ronbow and Ronbow Signature branded products will still only be available to purchase through the company's current distribution channels, however designers can share their favorite Ronbow and Ronbow Signature products with showrooms through the new wishlist feature on the website.
"Our mission as a company today still remains the same after over 15 years in the industry: to be the most reliable and trustworthy leader in providing our customers with the highest quality decorative bathroom products and unprecedented customer service," said Christine Pham, chief operating officer of Ronbow Corporation. "Our redesigned website further advances our mission, creating another access point for the design community to find information on our innovative and award-winning products and create additional channels for direct engagement and interaction with the Ronbow team. Furthermore, when our e-commerce capabilities come online later this year, we will be one of the first furnishing manufacturers in our K+B industry to offer direct to consumer purchasing for some of our products."
With an aim to increase function and visitor interaction, Ronbow designed a visually appealing, user-friendly website with features that include:
• Shop portal: Visitors can explore products by either brand category (Ronbow Signature, Ronbow and Ronbow Essentials), style (contemporary, transitional and traditional) or product category (vanities, sinks, accessories, and storage). Each product comes with installation instructions and specification sheets available to download from the website.
• Brand pages: Each Ronbow brand has its own webpage for visitors to explore the collections and view latest news and product offerings from each category.
• Wishlist function: Visitors can sign in to the website and add products to a sharable, savable wishlist to keep track of their favorite products across different devices.
• Showroom locator: A searchable map of Ronbow's showrooms to find the nearest one for an in-person look at the products. Visitors can search by location as well as search for Ronbow and Ronbow Signature-specific dealers.
• Promotions: Discover current promotional deals and information that are available through Ronbow's online store as well as its traditional dealer network of participating showrooms.
• Catalogs: Visitors can download digital versions of Ronbow's latest catalogs of sinks, vanities, and mirrors. Each digital catalog page also links back to the corresponding webpage for visitors to either add the products to their wishlist or buy if it's a Ronbow Essentials product.
"The new Ronbow website is more than just a catalog of our products, it provides design inspiration for consumers on timeless styles and current trends for the bath," said Trevor Tran, Ronbow director of marketing. "We wanted to create a visual and intuitive website that helps consumers find the design aesthetic that speaks to them when unsure what style or size vanity they are looking for. Visitors can browse the variety of design categories filled with environmental images of our products—from traditional to contemporary bathrooms—to find what fits their tastes, space configurations and even options or features required. We're looking forward to producing more website content to help designers and consumers find inspiration in home design with the launch of our Ronbow blog and other content pieces later this year."