RTI and Orro Integration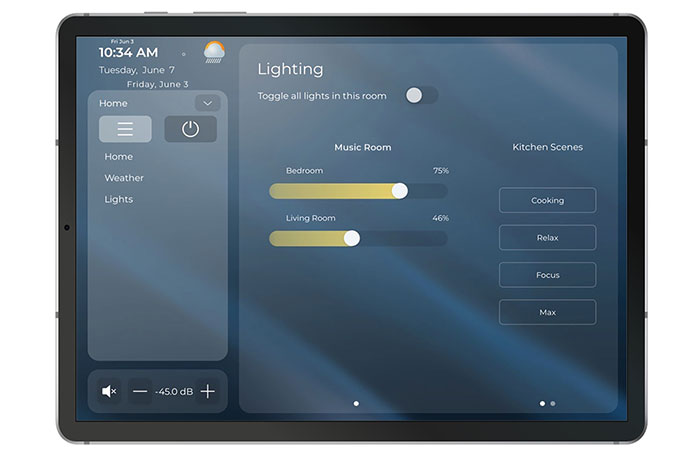 June 15, 2022
Control and automation manufacturer RTI has announced that the RTI control platform now works with Orro, integrating Orro's intelligent lighting control into any home automated by RTI. 
With light, motion and sound sensing, plus elegantly designed smart switches, Orro's adaptive lighting automatically adjusts based on homeowner presence and preferences. RTI elevates this lighting performance by enabling control and automation of Orro switches from within the RTI control environment. The integration boosts control system performance by launching control and automation events triggered through Orro presence detection.
"Automated lighting control is an important aspect of the smart home, and Orro adds a level of intelligence that makes it more intuitive than ever for the homeowner," said Neal Ellsworth, director of product management at RTI. "With the RTI integration, it's much more than just using the control system to automate the lighting. We're also enabling the lighting system to drive the automation. The result is a unified system in tune with the homeowner."
Orro turns on or off lighting scenes based on presence detection, and the RTI control system can trigger automations also based on this detection. For example, when someone enters the room, not only will the lights turn on, but the music can automatically be adjusted to a preferred station and the volume brought to the desired level. When no presence is detected, the lighting scene can change, and the music can be turned off. 
"It makes the home feel more intuitive," continued Ellsworth.
Standard Orro lighting control is enabled through the RTI system, creating an exceptional experience throughout the home. The homeowner can launch lighting scenes, set dimmer levels, control lighting loads, turn individual lights or lighting groups on and off and combine Orro Switches into groups. The Orro One and Orro S Intelligent Lighting Switches work together to create a seamless lighting system, setting the perfect mood in any home. Orro also works with popular smart bulbs and switches.
"At Orro, we're constantly listening to the channel and one of the most requested integrations has been with RTI," said Patrick 'PG' Gall, head of channel development. "This new integration allows Orro to be a flexible tool for the dealer, adding value to RTI jobs with intelligent, proactive lighting that helps the dealer do so much more."
The new driver that enables the RTI-Orro integration is available to authorized RTI dealers at the RTI driver store and directly within the RTI Integration Designer 11 control application programming software.