Semihandmade Announces Caesarstone Partnership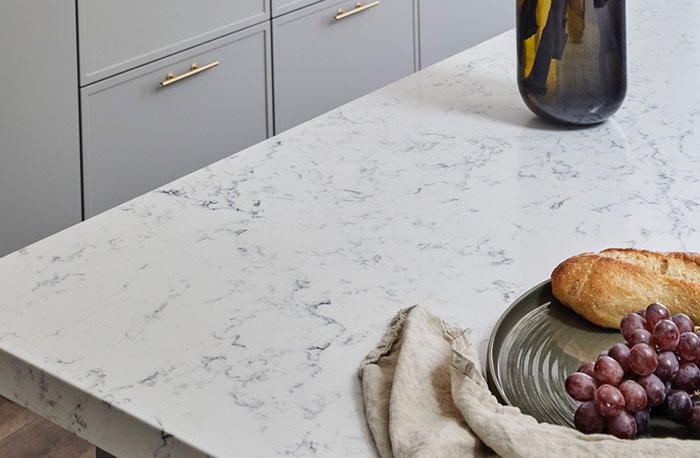 May 26, 2022
A new partnership between Semihandmade, the home remodeling brand known for pairing stylish doors with IKEA cabinets, and  Caesarstone, pioneer of quartz surfaces, will help Semihandmade customers realize their dream spaces by providing a one-stop shopping experience for all things home renovation. 
Semihandmade's selection of high-quality doors and Caesarstone's beautiful quartz surfaces, sourced from raw materials and offering durability, collectively have the power to transform a room. 
"Renovation projects can be overwhelming, so it goes without saying that when customers come to us for cabinet fronts, they also ask if we sell countertops, hardware, shelving and the like," said Beth Brenner, president of Semihandmade. "It didn't make sense for us to add surfaces to our offerings unless we could partner with one of the industry's best resources, one that beautifully blends design and durability. Caesarstone was at the top of that list, and we are thrilled to be offering their surfaces to Semihandmade customers."
While Caesarstone is typically sold through a network of local kitchen and bath dealers, this partnership with Semihandmade is a new, unique type of retail alliance for the surfaces brand. 
Thanks to Caesarstone's proprietary software platform, Caesarstone Connect, this partnership makes the order process seamless for Semihandmade customers when they buy their countertops to go along with their cabinet fronts from Semihandmade. The Caesarstone Connect platform is a one-stop shop that offers faster turn-around and quality guaranteed by only the best industry fabricators. Additionally, Semihandmade's Customer Experience team has been trained by the Caesarstone Connect Team to answer any questions, provide price quotes and place countertop orders. After an order is placed, Caesarstone connects customers to a local fabricator who measures and installs their new surfaces. 
"Caesarstone has been providing the best quartz material since 1987, and now we offer the best way for our customers to sell it to their customers through Caesarstone Connect," said Ken Williams, CEO and president, Americas. "It's a true differentiator in our industry and is already proving to be a valuable sales tool for retailers, helping to simplify the design process." 
The debut of Caesarstone is part of the launch of Semihandmade's new Marketplace, offering high-end, design-centric brands that make Semihandmade a one-stop shop for all things home makeover. Launched May 25, Marketplace means customers will now not only be able to shop Semihandmade's cabinet fronts and Caesarstone surfaces, as well as decorative hardware from brands like Rejuvenation and kitchen and bath accessories from Hawkins New York, along with other renovation-related products from soon-to-be-announced brands — all in a single destination. 
"Semihandmade and Caesarstone are brands that consumers want — and love," said Brenner. "And selling Caesarstone surfaces along with cabinet fronts makes the Semihandmade customer experience even richer. In our quest to become a full-scale resource for kitchen renovations (and other rooms in the house!), this is a timely and important step forward."