Sherwin-Williams Launches New Tools
---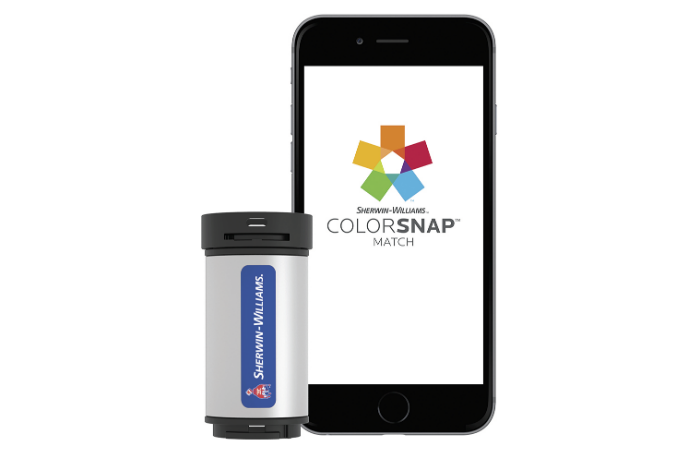 February 5, 2018
Sherwin-Williams has unveiled ColorsSnap Match, its new handheld color-matching tool aimed at helping everyone from painting contractors to designers, remodelers and homeowners with quick and confident color matching. The new device connects to Sherwin-Williams free ColorSnap Match app via Bluetooth to deliver a streamlined experience and make it effortless to scan any surface or fabric to find corresponding Sherwin-Williams colors.
"We're excited to get this product in the hands of professionals and consumers to give them an easy and affordable color-matching experience," said Jeff Winter, vice president of residential marketing at Sherwin-Williams. "This tool is lightweight and portable, making it convenient for on-the-go color matching,"
The new device enables users to scan colors from any item or texture, including paint, textiles, carpet, tile, apparel, accessories and more, then instantly find the closest Sherwin-Williams paint color. ColorSnap Match will also save scans, and match and show Sherwin-Williams color palettes.
The ColorSnap Match paint-scanning device is available in Sherwin-Williams stores nationwide for $69.99, and the ColorSnap Match app is available for both iOS and Android devices.
Sherwin-Williams ColorSnap Visualizer, the mobile app that helps contractors, designers and homeowners find the perfect color, is now available in four languages. Users can now select Spanish, Portuguese and French, in addition to English, giving them access to the same great features and functionality of the ColorSnap app in their preferred language.
"Our priority is to increase productivity and find solutions for customers by providing new tools and resources to meet their needs," said Winter. "Offering a multilingual option for the ColorSnap Visualizer app allows us to help even more customers make quick and confident color selections."
Users can easily change the language by going to Settings in the ColorSnap Visualizer app on their device and selecting their preferred language. The ColorSnap Visualizer app is available for both iOS and Android.