SieMatic Opens New Montréal Showroom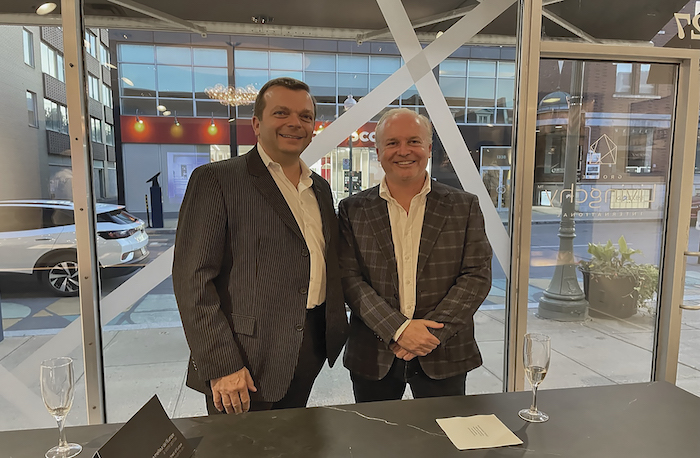 October 29, 2023
Earlier this month, SieMatic Montréal celebrated the grand opening of its new location at 1327 Green Ave. in Westmount. Now under new ownership, the showroom is nestled among the exclusive area's boutiques, fine restaurants, and art galleries. On opening day, the showroom welcomed VIP guests from distinguished architects and designers to representatives from renowned local companies. Guests mingled over champagne and hors' d'oeuvres with press members and local consumers for the unveiling of SieMatic's latest interpretations of timeless and elegant kitchen design.
"Westmount's chic suburban atmosphere is an ideal location for SieMatic Montréal," says Hans Henkes, president and CEO of SieMatic USA (above at left, with kitchen designer Jean-Martin Lapointe at right). "The new showroom conveys well the design styles that typify SieMatic as well as the unique product features and elements that are second to none from technology, design and quality standpoints," he said, pointing out the award-winning SLX kitchen as a key highlight.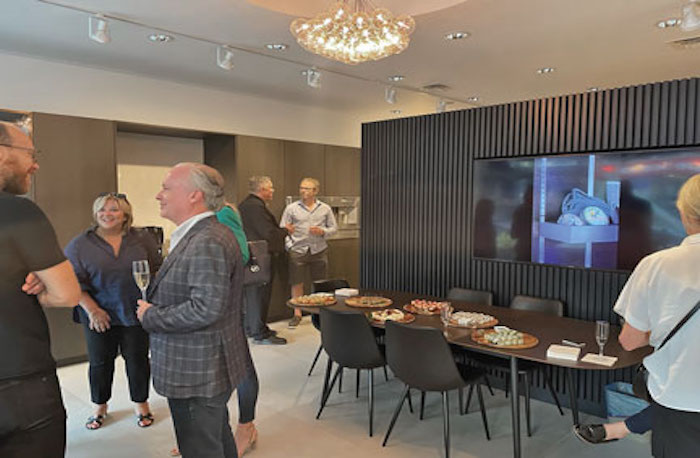 Playing a starring role in the new showroom, the SLX kitchen is featured in Black Smartlaque. "SLX is the premium echelon of SieMatic's signature handle-free kitchen design concept, making it the natural choice for our feature kitchen," explained SieMatic Montréal's new showroom owner Kevin Napert.
SieMatic is the inventor of handle-free kitchens, and as part of the PURE style collection, SLX is a new interpretation of the ergonomic recessed grip. LED lighting strips integrated into the sophisticated contours of the grip channel create the subtle effect of weightlessness. The channel lights make the delicately proportioned six-millimeter countertop appear to float in midair.
"The concept works like a vitrine. Passersby on the street can see the SLX as well as all SieMatic styles, thanks to the large screen integrated into the showroom as an architectural concept," said kitchen designer Caroline Bertaux, who designed the Montréal showroom.
Photo credit: SieMatic