Sustainable Home Improvement Company Opens First Energy-Positive Big-Box Store
---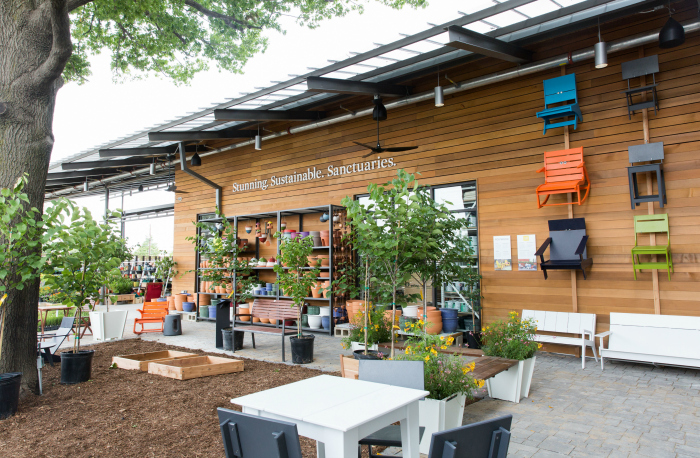 June 6, 2017
TreeHouse, the home improvement company focused on making homes beautiful, healthy and sustainable for everyone, officially opened its doors for business. The TreeHouse Dallas location is the first energy-positive big-box store in the world, meaning the store will generate excess renewable energy using solar panels, battery packs and cutting-edge architectural design, then send unused energy back into the city grid.
"It is existentially urgent that our buildings not harm either ecological or human health," said Jason Ballard, TreeHouse CEO and co-founder. "This building is an unbelievably important milestone for both the retail and architectural communities to show in grand fashion that buildings can be beautiful and human centered in their design and also be positive contributors to people, communities and nature. This building sets a completely new standard for ecological and human health and is an embodiment of what our company hopes to accomplish for homes as well."
TreeHouse is disrupting the $1 trillion per year industry of home improvement.
"The model of retail as essentially a warehouse full of products is under tremendous threat and pressure," said Ballard. "What we have done is imagine our company as a hub for the whole experience and journey of home improvement. To that end, we have turned up design, education, experience, service, and technology to max volume. This store is a signpost that points to what the future will be like for both homes and retail. We have designed turn-key, high-quality services and programs, such as kitchen and bath design, solar energy outfits, home insulation and weatherization, comprehensive smart home installation and more."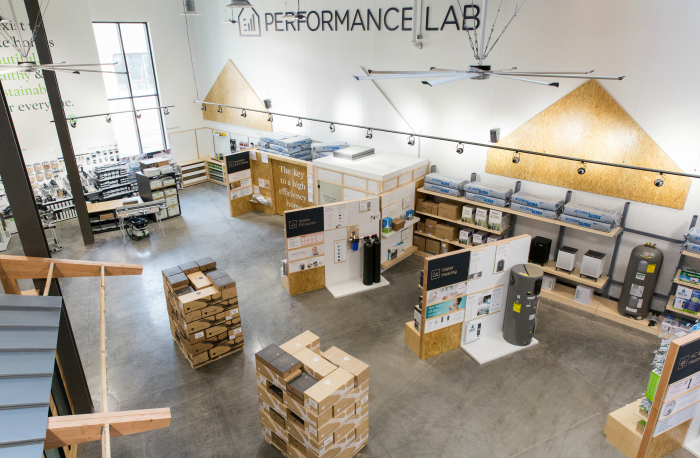 TreeHouse Dallas is the anchor tenant in the new The Hill redevelopment, a North Dallas shopping center being revived, refreshed, and repositioned by CAPREF Manager, LLC. The Hill features a new slate of award-winning dining, home and healthy-living concepts.
"We are excited to welcome TreeHouse as the latest addition to The Hill," said Todd Minnis, principal of CAPREF Manager, LLC. "In the coming months, TreeHouse will be at the center of a complete repositioning of The Hill as the destination for customers looking for new-to-market restaurants, entertainment, and retail concepts centered around a unique, community connected space."
Award-winning architecture firm Lake | Flato used TreeHouse's approach to product and materials selection and worked at the edge of building science and sustainable design to bring the energy positive store-of-the-future to life.
"We are proud to be a part of this landmark moment in building design," said Lewis McNeel, AIA, project architect, Lake | Flato. "The TreeHouse team are ideal architectural collaborators. They brought to the table some very, very high technical and aesthetic aspirations for their new Dallas store and then challenged us to design one of the most sustainable buildings in the world. This is a building that will be studied and talked about for a long time."
TreeHouse & Lake | Flato were able to go beyond being a net-zero building by:
Monitoring the Austin location to set a baseline of electricity consumption to model expected energy use of the Dallas location.
Quantifying how much electricity could be saved through the use of daylight, LED lighting, and heat load reduction tactics.
Designing features such as south-facing saw-tooth roofs oriented to maximize the effectiveness of a giant rooftop solar array. This notable building feature solved the need for extra space for solar panels. In addition, the north facing windows allow for indirect sunlight without the impact of direct heat, allowing for a cooler baseline temperature for the store.
Utilizing a Tesla Powerpack to store and deploy the energy generated from the ultra-high efficiency SunPower solar array.
Ultimately, the unique and strategic store design, paired with onsite solar energy and battery storage systems, is able support the new store's power needs and has allowed the store to be "energy-positive" and to provide any excess renewable energy back into the grid.
TreeHouse provides progressive products, great design, human-centered services, and leading edge technology together under one roof. Products include: Haiku fans and lights, ROMABIO Cradle-to-Cradle Certified paint, FLOR carpet tiles, Tesla Powerwall batteries, Nest smart home products, Nebia showerheads, Dunn-Edwards Zero VOC paint and Bolefloor hardwood flooring.
The Dallas TreeHouse location is located at 8021 Walnut Hill.