Tech Lighting Now Part of Vantage Lighting Fixture Alliance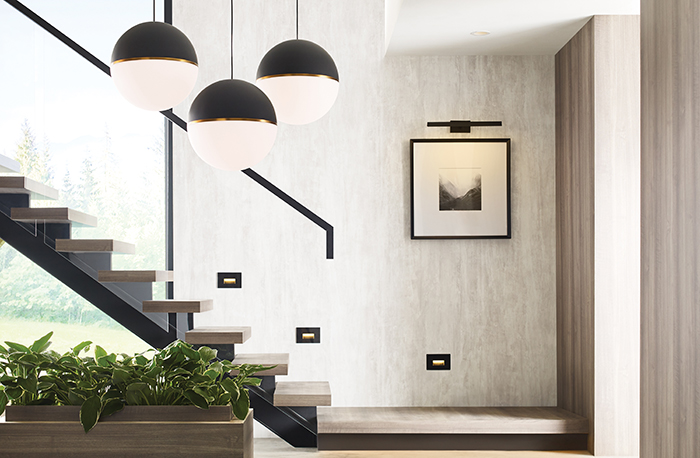 October 17, 2022
Legrand's lighting control brand Vantage has added Element fixtures by Tech Lighting to its growing lighting fixture alliance. Tech Lighting is a lighting brand of choice for architects, lighting designers and interior designers. Its portfolio includes architectural recessed downlights, linear LED channels and tape, and high-end decorative fixtures, delivering a complete lighting package. The alliance ensures that the company's fixtures pair seamlessly with Vantage's lighting control to offer a comprehensive and beautiful lighting design and user experience.

Tech Lighting offers its Element specification-grade recessed lighting options, which deliver compact light fixtures engineered with greater agility, versatility, consistency and responsiveness to suit any mood. The Tech Lighting Downlight portfolio also includes a wide range of products at varying price points including Entra and Entra CL to support budget and performance criteria.

"Lighting control gives any home a dynamic way to change the room," said Dave Keller, business development, Legrand Residential Shading & Controls. "Architects and designers who choose Element can complement their designs with incredible control that can be fully customized. From our easy-to-program user interface to touch panels and keypads with Adorne and EasyTouch Glass wallplates available in an array of finishes and colors, we provide the finishing touch to any design that homeowners will enjoy."

Element by Tech Lighting is engineered to ensure the highest quality housing components and assembly methods. The downlights are designed to provide exceptional illumination while also ensuring the space is clean, quiet and undistracting at the ceiling. Features include a high-low lamp position, 361 degrees of rotation to avoid dead spots, and up to 40 degrees of tilt for maximum adjustability. Downlights are available in multiple application styles, including adjustable, fixed, remodel and wall wash – along with a multitude of flangeless wood ceiling options. 
The fixtures offer a range of static white, warm color-dimming and programmable white options. Tech Lighting's Tunable White options allow homeowners to select different color temperatures for different spaces and at different times of day. When combined with Vantage's LHuman human-centric lighting control solution, featuring design-friendly Vantage control touch panels or keypads and automated shading from Legrand Shading Systems, architects, interior designers and installers can intelligently render the perfect lighting environment homeowners need for any task or mood.

"Our mission is to help people fall in love with great lighting," said Josh Weiss, executive vice president for Tech Lighting. "Lighting is the one design element that impacts every other design element in the space. Lighting is also the only dynamic design element. Combining our premier light fixtures with exceptional lighting design and Vantage control, we can build layers of light that create a visually comfortable and visually interesting experience for the end user."