The 2023 Kitchen & Bath Market Outlook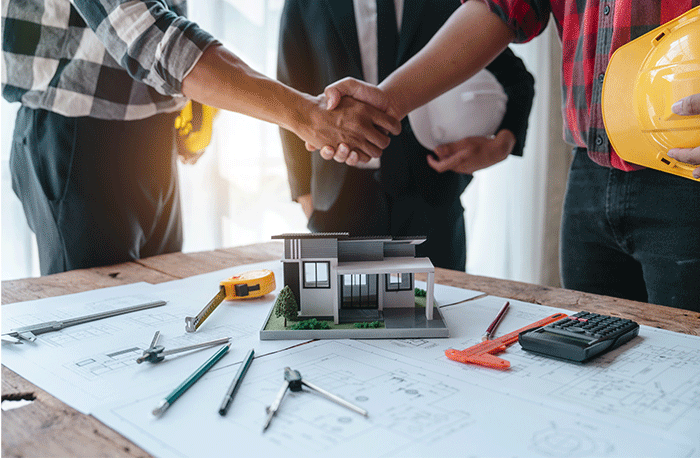 February 10, 2023
Preliminary data from the National Kitchen & Bath Industry's 2023 Kitchen & Bath Market Outlook predicts that total residential kitchen and bath spending is likely to decrease approximately 14% in 2023. The forecast is driven by a 17% decrease in construction spending and a 10% decrease in remodeling expenditures. It's likely our industry will see a downturn in 2023 before the silver lining predicted for 2024.
Despite the somewhat gloomy projection, the remodeling industry is still staying afloat. According to the Architectural Billings Index, for the first time in 20 years, most billings came from renovation projects versus new construction. Aging housing stock, demand for living-in-place improvements and the use of homes for multiple purposes, i.e., remote working, all fuel the desire for renovations. According to Robert Dietz, senior vice president & chief economist of the National Association of Home Builders, this desire has somewhat weakened because a lot of remodeling occurs just after a home goes on the market or right after it has been purchased.
Lately, existing home sales have declined because of rising interest rates. Although those, increased labor and material costs and longer lead times all point to a downturn in remodeling, some are still busy with project backlogs. Chris Egner, president of the National Association of the Remodeling Industry, says his company has had some slowdowns in new leads but not to a great extent and that the pipeline looks good through 2023. According to Manuel Gutierrez, consulting economist for the NKBA, the home remodeling market will expand to almost $450 billion in 2023.
For new construction, there have been 12 straight months of decline on the NAHB's Wells Fargo Housing Market index. Single-family starts are down 7%, and Dietz says the final decline of 2022 will be more than 10%.
"2022 will be the first since 2011 in which the calendar year total of single-family starts decreased," he added. "The Housing Market Index is at 31, which is the lowest reading since the Great Recession, and we will see an additional decline in 2023. The index is signaling single-family starts declines for 2023."
There are some subsectors of the industry that will see growth this year, including custom home building – larger homes built on owners' lots – and single-family, built-for-rent construction. Dietz says the multifamily rental market will decline in 2023 after a strong 2022 and that there are more apartments under construction than any time since 1974.
Supply Chain Status & Building Material Prices
The issues with the supply chain have kept us all on our toes, with some describing it as taking two steps forward and one step back. Some homeowners have even put off remodeling projects because of the lack of product availability.
According to NKBA CEO Bill Darcy, the fear of recession is the top concern for K&B industry professionals, followed by availability/cost of skilled laborers and cost of materials. Tied and ranking fourth on the Q3 2022 NKBA/John Burns Kitchen & Bath Market Index list of K&B industry challenges are supply chain disruptions and inflation.
"As a result of a slowdown in consumer demand for K&B products in late 2022, inventory levels have increased and supply chain problems have eased, in effect allowing the industry to reset and return to more balanced supply and demand levels," said Darcy. "Assuming consumer demand for K&B products remains soft, we can expect additional supply chain improvement in 2023."
Designers are stepping up with solutions to outsmart the supply chain issues. Toni Wyre, a consultant at Polk Stanley Wilcox Architects in Little Rock, Ark., and chair for the American Society of Interior Designers' National Board of Directors, remodeled a kitchen last summer that was originally to be outfitted with all custom cabinets. The millwork shop with which she was working got really far behind, so she and her team defined which elements needed to stay in the "custom" realm.
"We ordered a few modular cabinets flanked on each side by custom, which shaved six weeks off the lead time," said Wyre. "Those did not have to be built by the millwork shop, and they worked well with the custom options. We need to make some compromises to move forward, and it should not always have to come down to one supplier."
The Skilled Labor Shortage Burden
Workforce development has been and continues to be a huge challenge in our industry, as workers continue to age out. According to the most recently released data from the Bureau of Labor Statistics, there are 371,000 unfilled construction jobs in the U.S.
"Labor shortages are going to remain a fundamental challenge in industries like construction in 2023 and for many years to come," said Darcy. "The skilled trades positions that remain the hardest to fill are carpenters, plumbers and electricians."
According to Ed Brady, president and CEO of the Home Builders Institute, now is the time to train people and invest in the workforce. We do not have the labor we need to keep up with the demand for housing in the U.S.  Dietz estimates we need to add 740,000 new hires on a gross basis to maintain the current level of workers and account for new growth given a pending wave of retirements.
"As students are graduating with high debt and no real marketable skills, the idea of a career in the trades is starting to resonate," said Brady, who explained that a lot of jobs in the next 10 years will not require a degree, rather a credential. "The perception of skilled labor is changing, as people realize they can also make a good income."
To bring this message home, NARI recently launched its NARI Hires program, where anyone can apply to work with a member company or contractor within the organization. NARI's local chapters across the country partner also with high schools to educate students that there is dignity and respect associated with a career in the skilled trades.
HBI's Job Corps program targets at-risk youth, and Second Chance works with the corrections and juvenile justice system to help those individuals find jobs and give them an option other than a degree or a minimum wage. Brady says HBI has partnered with more than 300 schools at the introductory level to keep this front and center and plant the seed. It has also worked with the Boys and Girls Club, 100 Black Men of America and Women in Construction to diversify the workforce, as only 10% of it is made up of women. HBI has opened three academies and will have seven by the end of 2023 in major cities. These are facilities where HBI provides on-the-job training for all these populations under one roof in 12 weeks.
Brady said it would be helpful for the industry to establish micro credentials for such specialty skills as cabinet installation or trim work. HBI is working with more than 10 specialty associations to determine the best way to invest in credentialing and developing curriculum with standards. HBI also works with various suppliers that have invested in its academies and trades programs. Those suppliers donate in-kind material on which to train and support future installers and technicians and in turn receive brand recognition.
As for 2023 as a whole? According to Dietz, at the end of this year, inflation will have decreased through a recession or a soft landing engineered by the Federal Reserve. He says a recession is the more likely outcome, but one way or another, the monetary policy will ease by the end of 2023, and we will see a macroeconomic rebound in 2024 led by the housing sector.
By Chelsie Butler, KBB Executive Editor
Photo credit: NanSan/Adobe Stock