THG-Paris Showroom in the D&D Building, New York
---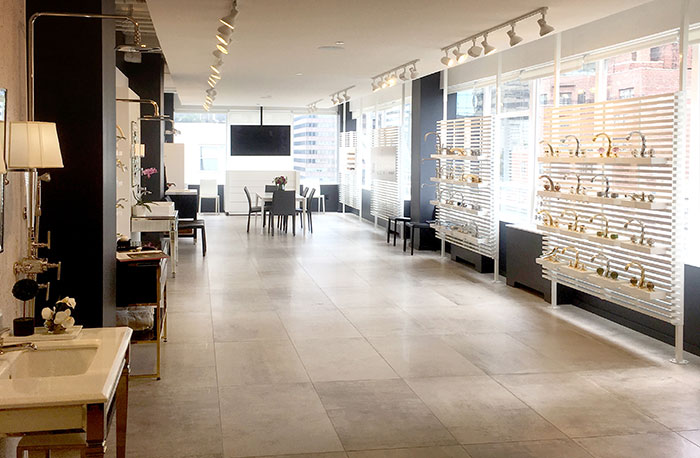 June 16, 2017
THG-Paris, the leading French atelier in luxury bath fittings, announces the opening of its first North American-based design center showroom, located in the prestigious D&D Building in Manhattan, New York – considered the heart of the design district. Situated on the 12th floor and scheduled to open May 24, 2017, the new, nontraditional showroom space will serve as an experience center for visiting guests to immerse themselves in the THG-Paris brand.
For designers and architects, the space becomes a working tool and studio where they can create, work on specifications and visualize their projects. For THG's exclusive dealer network, the space will serve as an extension of their own showrooms where clients receive a deeper understanding and interactive experience with THG-Paris products.
Evoking the timeless elegance that is synonymous with the THG brand, the design center will provide a streamlined, modern design with brilliant white walls and floor to ceiling windows, acting as a blank canvas for visiting architects and designers. The studio will offer its guests the chance to see the complete ensemble of designer collection suites and fully expanded series of THG's iconic signature products, while being enthralled by THG-Paris' design sensibility in a curated and evocative setting. THG will also develop a series of intimate monthly live events and activities that will tie to the local design community and media.
"This is a busy and exciting time for THG-Paris and we are enthusiastic about the opening of our first flagship design center showroom in the states," said Pedro Uranga, North American director for THG-Paris. "With the changing consumer marketplace and design arena, we envision this new concept as a destination showroom that will inspire new, innovative bath and spa-wellness room designs within our studio's walls."
The showroom opens at a momentous time for the company. THG recently celebrated its 60 years of Art de Vire – "the art of living" – its focus on impeccable design, meticulous craftsmanship and beauty in the bath. THG has always been recognized as the true luxury French house and maker of the absolute finest fixtures and in recent years the ongoing evolution of the THG-Paris brand in Europe and North America has been strong and steadfast.
A grand opening celebration on the evening of May 24th will also feature the debut of world-renowned interior designer, Timothy Corrigan's latest collaboration with THG on a collection that also launches in the U.S. market in May. There will be a ceremonial ribbon cutting for the design center, as well as a discussion of Corrgian's collection with special guests.