Tile Redi Partners with Granite and Trend Transformations
---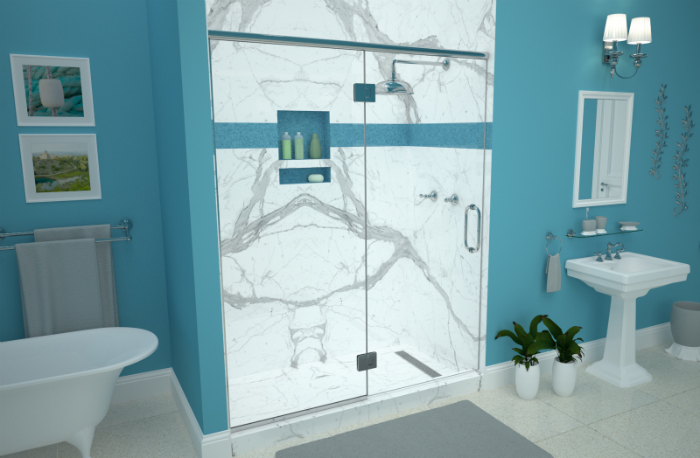 September 11, 2018
Tile Redi will now provide its one-piece, leak-proof shower pans with integrated drains, as well as complementary niches, shelves and benches, as the foundation for the patented surfaces offered by Granite Transformations and Trend Transformations. The process is fast and easy and streamlines the installation of a shower surround system.
Granite and Trend Transformations create surface overlays in granite, quartz and recycled glass that transform baths and kitchens without the need to remove existing surfaces. Tile Redi created a one-piece tileable shower pans category and associated surround options that can be directly tiled, eliminating the extra steps that are typically required for shower installations.
This new partnership creates true custom shower solutions. With Tile Redi's Customer Concierge Service, shower pans can be individually produced in any size and configuration for a customer's pre-existing or new shower. The custom overlays from Granite and Trend Transformations can be set directly onto the surface of Tile Redi's shower pans and accessories. This streamlines installation, substantially reducing the time, labor and cost of traditional shower renovation projects.
Surface overlays are available in a variety of colors and patterns and are ideal for residential renovation projects like showers, vanities, shower bases and walls, tub surrounds, flooring and more. The overlays come in variety of design collections, such as classic marble, concrete, granite, quartz and recycled glass. Building shower solutions with Tile Redi shower pans and Granite and Trend Transformations overlays is environmentally friendly. The little-to-no-demolition model prevents tons of debris from being dumped in landfills each year. Many of the products are recycled — such as the recycled glass surfaces that contain more than 78 precent of post-consumer recycled content. And with ForeverSeal technology, the surfaces are heat, stain and scratch resistant and never have to be resealed.