Victoria + Albert Announce Winner of International Design Awards
---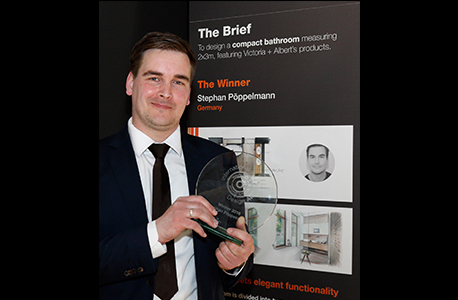 April 29, 2016
Victoria + Albert Baths has announced the winner of its inaugural International Design Awards. German designer Stephen Poppelmann was presented with an all-expenses–paid trip to see his vision come to life at this year's Salone del Mobile in Milan, Italy.
The goal of the competition was to design a compact bathroom measuring 6.5 x 9.8 feet featuring any products from Victoria + Albert's Modern and Traditional collections. Poppelmann proved his creative skills as a bathroom designer and also as an illustrator, as all sketches forming his submission were drawn entirely by hand. His design was divided into two distinct zones: the Aqua Zone and Comfort Zones. Aqua featured the compact ios tub and Tubo 21 shower; and Comfort Zone included a bespoke wooden vanity unit with a pair of side–by-side ios 54 basins to complement the main bath, providing ample space for two people. The two zones are separated by a sliding glass wall, creating a clean distinction between the two areas. 
                                                                                  Comfort
Poppelmann's choice of materials and color scheme give the room a natural, timeless appeal. The stone effect on the wall and floor tiles was chosen to highlight the natural white gloss of the ios bath – a result of the brand's unique ENGLISHCAST material, a mixture of Volcanic Limestone and resin. Atmospheric lighting, seating, storage and comfort have all been considered in this cleverly designed space – proof that the best things really do come in small packages.
Aqua
"You need a lot of creativity to design bathrooms in small spaces, so it was an exciting challenge to create a wellness area with only six square metres," said Poppelmann. "I wanted to ensure that functionality and appealing design were combined in a small bathroom, allowing me to merge beauty of design with ultimate product usability. I couldn't believe it when I received the message that I'd won the competition."          
"We were delighted with the response to our inaugural International Design Awards – we received many creative entries, each one approaching the brief in a different way," said Emma Joyce, communications manager at Victoria + Albert Baths. "Stephan's design, however, was the perfect example of a concept that would work equally well in a home or hotel bathroom. The design was perfectly on trend, utilizing mixed materials, natural surfaces and of course an excellent use of space. The design has been extremely well received at Salone del Mobile and has achieved its objective  – to get people thinking about compact bathrooms in a new way. As Stephan has shown, small can be perfect."