Vlaze Joins NKBA Global Connect Program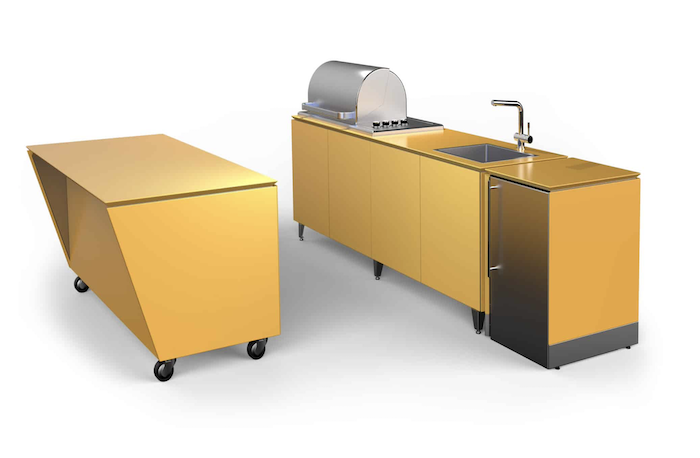 August 19, 2022
The National Kitchen & Bath Association (NKBA), representing nearly 50,000 North American kitchen and bath industry professionals and the owners of the Kitchen and Bath Industry Show (KBIS), announces its newest NKBA Global Connect Program member: Vlaze, established to focus on porcelain enamel for the living environment.
Vlaze is a 50-year-old, third-generation family business located on a small island in the UK. "We began as metal fabricators and grew the business over the years with several brands, our largest being Charnwood Wood Burning Stoves, which are sold all around the world and regarded as the cleanest burning British-made stoves you can buy," said Matthew Langridge, Vlaze spokesperson.
"Thirty years ago, in an economic downturn on stoves, we began making the iconic signage and cladding for the London Underground and the Paris Metro, and this began our work in porcelain enamel," continued Langridge.
Vlaze took its knowledge of porcelain enamel and repurposed the material by launching a high-end residential surface finish. In 2019, Vlaze designed a range of modular kitchen units clad in enamel, with a unique design aesthetic and highly engineered quality. In August 2022, Vlaze will be launching Vlaze Adapt outdoor kitchen islands in the USA.
The defining quality that makes Vlaze outdoor kitchens special and unique is the porcelain enamel. Durable and made to last, Vlaze is designed to complement high design outdoor living furniture.
"The outdoor kitchen market is a much bigger in North America than in Europe and the UK," said Matt Hugg, Vlaze US spokesperson. "Our product is unique as it's fully built and will be available in stock where customers can have them directly delivered and installed in a matter of days."
When it comes to sustainability and sourcing materials, Vlaze sources everything locally when possible. Glass and steel materials are naturally sourced components and fully recyclable at the end of life. The long-lasting nature of the products helps make them a sustainable investment. The company is aiming to go Carbon Neutral by 2050.
The NKBA Global Connect subscription program offers a robust package of resources and connections to help international brands enter the North American kitchen and bath marketplace. Access to industry experts, proprietary NKBA market data, North American design and construction insights, VIP events and networking programs give NKBA Global Connect subscribers a unique view into the market before they commit to launch. For more information, contact globalconnect@nkba.org.
"We are so pleased to welcome Vlaze into the NKBA Global Connect program," said Suzie Williford, EVP and chief strategy officer of NKBA. "We have built an outstanding program designed to help marketers navigate the vast North American kitchen and bath market, and it's gratifying to see it embraced."