WAC Lighting Opens Texas Facility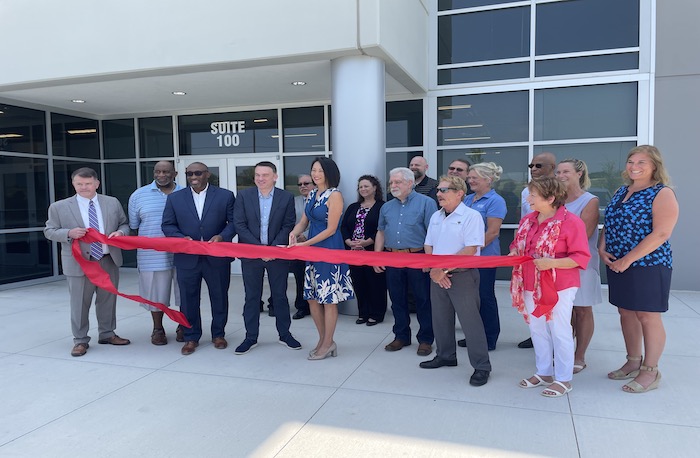 July 1, 2023
WAC Lighting hosted a ribbon cutting ceremony at the grand opening of its new warehousing and distribution facility in Cedar Hill, Texas, on Tuesday, June 20.
Attending the event from WAC were Shelley Wald, Co-CEO, Dirk Wald, Co-CEO, Jenifer Walsh, CMO, Michael Macaluso, Director of Operations, and Brian Davis, Warehouse Manager.
In addition, the city of Cedar Hill showed their support with multiple attendees taking part in the celebration. Local officials who attended included Stephen Mason, Cedar Hill Mayor; Henry Florsheim, Director of Economic Development; Alan Sims, Cedar Hill Mayor Pro Tem; Chad McCurdy, Cedar Hill Councilman; Clifford Shaw, Cedar Hill Councilman; Daniel Haydin, Cedar Hill Councilman; Greg Porter, Cedar Hill City Manager; Louis Castillo, Specialist Economic Development; Naika Malveaux, Marketing Manager; and Stephanie Starrett, Chair of the Chamber of Commerce.
Florsheim said, "Cedar Hill is proud to welcome WAC Lighting to our family. We're excited that they chose to locate here, and we look forward to helping make sure this facility is successful for many years to come."
The new Cedar Hill warehousing facility began shipping April 1 and comprises 140,000-plus square feet, with 14 employees and growing. The warehouse sits between WAC's Ontario, California warehouse and the Lithia Springs, Georgia warehouse, both which run at 100% capacity. The Texas warehouse will relieve the stress and provide tremendous capacity for continued growth. In addition, it gives WAC a more central location to service customers, especially quick-turn requirements for same day/next day shipping while servicing all brands including: WAC, Modern Forms Luminaires + SmartFans, Schonbek, Limited, WAC-Strut, and WAC Landscape Lighting.