What Homeowners Want in Smart Technology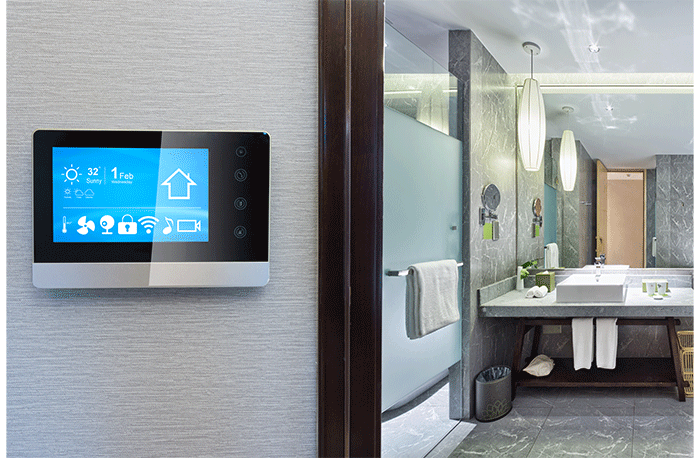 April 14, 2023
Today, the world of home technology is constantly evolving, making it increasingly important for designers to stay on top of the latest trends and products. A suggestion from the Home Technology Association is to find a qualified home technology integrator and make them a part of your design team. Your integrator is a great resource for learning what's new and getting the tech installed in the most seamless way possible. With that in mind, let's explore what homeowners want in smart technology and some technologies that they may not yet know they want. 
Weatherproof TVs in the Bath
With the growing trend of high-tech bathrooms, many homeowners are looking for ways to incorporate entertainment into this space. One popular product in this category is weatherproof TVs. These TVs are designed to withstand the humid and wet conditions of a bathroom, making it possible to watch a show or enjoy music while having a relaxing soak in the spa tub. 
Vanity TV Mirrors
Picking up on the aforementioned trend, what homeowners want in smart technology includes a TV in their bathroom, but they want it hidden when not in use. A mirror TV is the perfect solution for this situation. When the TV is off, all you see is the mirror. When it's turned on, the TV picture may be clearly seen through the mirror's surface. There are great products on the market made especially for this, with the TV's picture adjusted to look correct when having to shine through the mirror, which could otherwise distort the picture. Surface- and flush-mount options are available. 
TVs Flush in a Backsplash
To declutter kitchen countertops, how about recessing the TV in the backsplash, making it possible to watch TV or view digital photos while cooking or entertaining? This trend not only provides a convenient way to enjoy technology in the kitchen but also helps keep the living space free of clutter and enhances the overall aesthetic. Motorized TV lifts are another option here, hidden when off and 'appear' when turned on.  
Weatherproof Speakers
Along with weatherproof TVs, great sound for listening to music is another popular technology homeowners are incorporating into their bathrooms. Weatherproof speakers are a convenient way to enjoy music or listen to audio books while getting ready for the day. These speakers are water resistant and can also be mounted in the shower. There is a wide variety of speaker solutions, many of them fully invisible or can match the size and shape of the ceiling fixtures so as not to 'stand out' visually. Again, lean on your technology integrator for options or visit the Resource Guide at htacertified.org to see some speaker options. 
Voice Control in the Kitchen
The kitchen is often the heart of the home, and homeowners are increasingly looking for ways to make this space more convenient. Voice control is a popular trend in the kitchen, providing a hands-free way to operate the TV and play music while cooking or entertaining. With voice control, homeowners can easily switch between channels and adjust the volume without having to reach for a remote. Beyond TV watching, you can control your lighting, shading, climate, security system and more – all with your voice. Beyond the ubiquitous Google and Amazon voice assistants, professional-grade voice-control systems are available that are not only much more privacy focused but also respond to natural language commands instead of having to memorize a series of non-intuitive commands. 
Flush-Mounted Tech Options
This is one of those things everyone reacts to in a positive way. We've grown accustomed to wall plates protruding off the wall, though when you see them flush-mounted with the finished wall surface, it is a much cleaner look. These can be faux painted to blend in with any color or backsplash design; we've seen them painted to match wood, stone and more. Since code requirements often dictate having a fair number of electrical outlets in the kitchen, this is a way to practically hide them in plain sight. 
Technology is an increasingly important consideration for homeowners, and kitchen and bath designers play a key role in keeping up to date on what homeowners want in smart technology. They can also help incorporate these products into their clients' homes, as they are the one driving the project. Whether it's help with designing and installing the solutions described here or something else, your home technology integrator is a key resource to incorporating this tech into your designs in the most seamless way possible. 
By Josh Christian, CEO of the Home Technology Association, which helps design professionals and homeowners find the most qualified home technology integrators
Photo credit: zhu difeng/Adobe Stock