7 Things You Don't Know About Dishwashers
---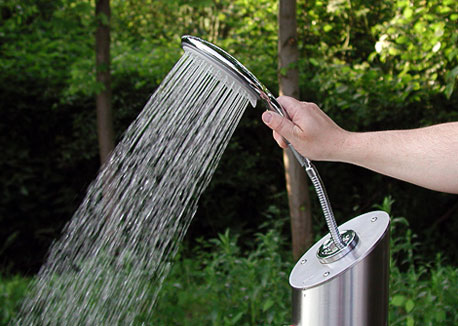 May 21, 2010
As summer approaches and the days grow longer, Mother Nature beckons us outside—to play sports, relax in the garden, entertain our friends and more. Even bathing is becoming a common alfresco activity as people increasingly take advantage of their home's outdoor areas, both to increase their living space and to connect to nature.
"In our cyber-age, people are fairly divorced from nature, so there is a resurgence in gardening and working outdoors and people getting in touch with things that ground them as an elemental being," said Ethan Fierro, author of "The Outdoor Shower: Creative Design Ideas for Backyard Living, from the Functional to the Fantastic" (Storey Publishing, 2006). "Outdoor showers in particular allow them to celebrate and feel that connection, returning them to the primordial Garden of Eden."
Fierro, an artist, designer and builder with 20 years of experience utilizing stone, wood and metal, developed his love of showering outdoors on his native island of Martha's Vineyard and now continues his passion on his present home, Maui. As he toured 5,000 miles of the United States to research his book, he discovered myriad outdoor showers, ranging from the simple showerhead on the side of a cottage to semi-detached and freestanding structures. Found in both warm and cold climates, outdoor showers include a wide range of designs, intended purposes, structural elements, materials and plumbing styles.
"In climates where the weather freezes, showers have to be drained and plumbing emptied," explained Fierro. "In tropical and subtropical environments, they can be more open, free-form, simpler." As a result, Fierro found on the East Coast and part of the West Coast and in other wealthier regions, outdoor showers have a lot more resources put toward them. "They more reflect the structure they are next to and have special architectural details and flourishes that set it aside as being a beautiful, high-end shower," he said. "In other areas of the country, outdoor showers are often simpler, more rudimentary, like the more bohemian showers in the redwoods of California."
In addition to including dozens of outdoor shower photographs to provide inspiration, Fierro's book includes an overview of basic plumbing and structural requirements, along with suggestions for incorporating a wide range of building materials, including stone, wood, metal, frosted glass blocks, earth, concrete, tile, stucco and landscape vegetation.
"One of the top considerations when building an outdoor shower is the degree of complexity you want to employ," said Fierro. "All you need is a hose against the side of a building or a tree, but if you want hot water, it needs to be tied into the plumbing system." Another important factor is the degree of privacy needed. "I usually suggest taking into account the shyest person who would be using it," he said.
The final factor in creating an outdoor shower, said Fierro, is creativity. "How creative do they [your clients] want to get? How much does it mean to them?" he asked. "Do they want to make it a fun, artistic expression of themselves, or just make it something utilitarian?" The book showcases Fierro's own illustrated plans for six fantasy showers, including a tree house, a vine-enclosed frame, a stained-glass nautilus and an underground cavity with a hole for sky-viewing.
Fierro's plans are environmentally sound and mindful of cost-saving techniques, with ideas for repurposing found and recycled materials, recapturing gray water to irrigate surrounding gardens and using solar energy to heat water. "In this day and age with potable water being an important issue, reusing the water from an outdoor shower is simple to do and people should be conscious about it," said Fierro.
Whatever design an outdoor shower takes, even the simplest creation lets people enjoy being in the elements. "Anyone who has ever used an outdoor shower loves it," Fierro said. "Outdoor showers create poetry in people's lives."
Get Inspired
Let one of these outdoor shower designs inspire you.
[1] Rustic Retreat
Located on the expansive, multi-function deck of a home in the mountains of Wintergreen, VA, this cedar-and-white-pine five-sided shower has one rock wall and a handcrafted wood door. An on-demand water heater means hot showers year-round—especially handy for anyone enjoying the nearby hot tub. (Photo courtesy of Lindal Cedar Homes)  
[2] Sleek and Clean
This contemporary Adria patio shower from Designerzeit features a sleek pillar design with a modern stainless-steel finish designed to withstand the elements. Available with cold-water-only or mixed taps, the lightweight showerhead can be hand-held or placed in a base.
[3] Sophisticated Surfer
Designed as a "beach wash-off" at a San Diego bluff-side home, this outdoor shower was a must-have element for its two surfing homeowners. Designer Stephen Adams of Adams Design Associates in Solana Beach, CA, selected the slate backsplash and wall of rounded faux river stone to resist the relatively harsh conditions of an ocean-front exposure and to complement the home's other materials. Tucked into an alcove next to the rear stairs, the outdoor shower is protected from the prevailing ocean winds, yet near where the homeowners enter and exit the house when they visit the beach.
[4] Circular Sensation
The OTTO outdoor shower from Calazzo features a 14-in. custom-crafted circular showerhead and integrated foot wash. Each showerhead is operated separately with independent controls for spray intensity and temperature. Stainless-steel construction and hardware are durable and resist corrosion, while teak handles stay cool in the sun. Although its dual-supply feed is designed for connection to separate hot- and cold-water sources, it also includes an adapter for connection with a standard garden hose.
[5] Heart of Glass
This glass-block enclosure illuminates a bather on the deck of a guest cottage. (Photo courtesy of Ethan Fierro from "The Outdoor Shower")
[6] Solar System
This solar-powered shower by Arkema makes a modern statement with an arching tower that positions the showerhead directly above the bather. Available in a range of colors, the overhead spray features a thermostat set at 86/100 degrees for safety, while the foot wash runs cool water.
[7] Space Case
This spacious, 8 ft. x 12-ft. shower in Bridgehampton, NY, has mahogany walls, built-in teak benches and stainless-steel fixtures. Perfect for a post-surfing rinse, it features a foot wash, hand-held spray and over-sized showerhead. The floor is hand-cut Indian stone with river-rock gravel. (Photo by Julian Wass)
[8] Arbor Day
This Under the Tree outdoor shower by Conmoto has a delicate tree-like shape that is both aesthetically pleasing and practical. The top branch serves as the water-jet source, while the lower emerging branches function as holders for towels and soap-on-a-rope. Completely made of stainless steel and designed for year-round outdoor use, the garden shower is simply anchored by a spike in the ground. A garden hose provides the water supply.
[9] Leaves of Grass
The creative vine-shaped copper plumbing and sheet-metal foliage of this shower on Cumberland Island, GA, add an aesthetic touch to the most functional part of the shower. (Photo courtesy of Ethan Fierro from "The Outdoor Shower")
[10] Sculptured Bliss
The Aqua Adagio high-polish stainless-steel shower from Jaclo adds a sculptural statement to any outdoor oasis. Its luxurious features include a round waterfall spray, a body spray and a foot-wash outlet.
[11] Grotto Fabulous
The enclosure for this Tuscan, AZ, shower is a spiral of local fieldstone. Occasional slabs project out from the wall, creating shelves for sitting and holding bath products. A variety of sun-loving vines are planted on the top of the wall. (Photo courtesy of Ethan Fierro from "The Outdoor Shower")
[12] Falling Water
The Waterfall Shower, designed by Mark Suensilpong for Jane Hamley Wells, combines teak and stainless steel for a serene statement. More than seven ft. tall, the shower releases a thin sheet of water that falls to the square-platform shower base. A single handle controls the cold water flow.
[13] Light Fantastic
Illuminated at dusk, this shower has nautical-grade lights installed flush into the mahogany. This exceptional shower also features stylized overhead copper plumbing and bronze support rods, forming an asymmetrical web to contrast with the strong horizontal lines of the showering enclosure. (Photo courtesy of Ethan Fierro from "The Outdoor Shower")