A Heart for Design
---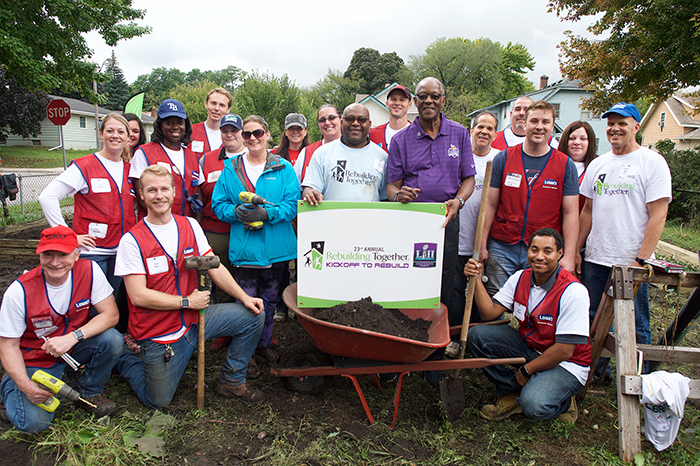 April 12, 2018
A group of volunteers for Rebuilding Together gather for KickOff to Rebuild Minneapolis, a project that rehabilitated six homes and developed a community garden in the Bryant neighborhood of South Minneapolis. Photo by Theresa Keil

In a busy society, it can be difficult to find time and ways to use our talents to better the world. Even so, designers, contractors and architects are uniquely gifted and can use their skillsets to equip, restore and beautify local neighborhoods, struggling individuals and careworn communities.
KBB spoke with five organizations that need skilled volunteers from our trade. Each one caters to different needs and levels of commitment, but every organization works to better lives through designing and building.
Organization: Rebuilding Together
Mission: Rebuilding Together works to repair homes, revitalize communities and as a result, rebuild lives.
Needs: "Designers have many skilled trades that can help with projects," said Max Gouttebroze, vice president of marketing and communications for Rebuilding Together.
"For example, if there is major work done in a house, they can help with paint selection, how to lay out a kitchen or bath or changing the use of a room – like when someone can no longer climb the stairs and needs to convert a downstairs room into a bedroom. All of that is helpful."

Time Commitment: This varies from project to project. People can volunteer for a few hours on a specific project helping with repairs. They can also assist with entire projects by serving as house captains and leading an entire team of volunteers or by scoping out houses and getting the word out about Rebuilding Together. There are also designers who serve on the board of directors of their local affiliate.
To Find Out More: Reach out to communications@rebuildingtogether.org or visit https://rebuildingtogether.org/find-your-local-affiliate to find your local Rebuilding Together affiliate.
Organization: Open Architecture Collaborative (OAC)
Mission: OAC develops educational programming for designers and architects to grow as leaders and change-makers.
Needs: The organization needs everything from communications, to fundraising to project management, community engagement, feasibility studies and schematic design.
Time Commitment: "Each effort is different," said Garrett Jacobs, executive director of OAC. "You can volunteer for a day or serve as a board member for a local chapter. Most volunteer opportunities last a few months and require a few hours of work a week."
To Find Out More: Contact a local chapter, which can be found at http://openarchcollab.org/chapters/.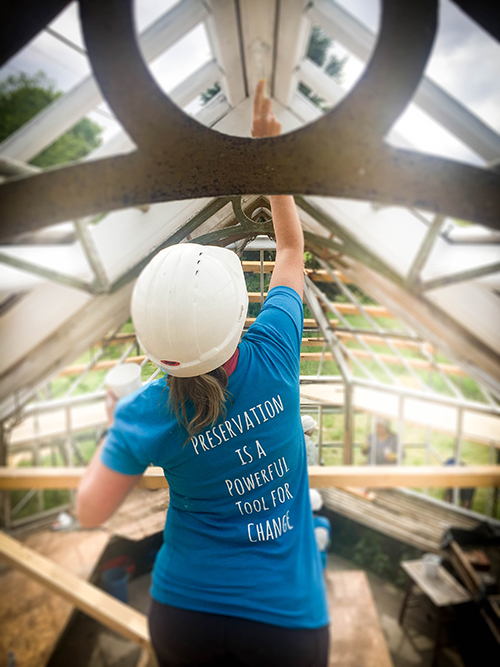 Adventures in Preservation works to restore historic buildings around the world.
Organization: Adventures in Preservation
Mission: Adventures in Preservation offers volunteer vacations directed toward saving distinctive architecture that defines a region's history and culture.
Needs: Hands-on work is necessary at several projects, including at a 1694 plantation manor house in Gloucester, Va., preserving an iconic wooden balcony in Gyumri, Armenia, and restoring an estate home in Moray, Scotland.
Time Commitment: These are typically week-long projects.
To Find Out More: Visit http://adventuresinpreservation.org/upcoming-adventures-2/ to find out about trips happening this year.
Organization: Philanthropy By Design (PBD)
Mission: "PBD works to transform nonprofit environments through design," said Kathy Lassen-Hahne, marketing and PR chair of PBD. "The organization designs, renovates and saves furniture and materials from landfills for creative reuse. Our work benefits thousands of under-served San Francisco Bay Area residents, at-risk youth, abused women, seniors, AIDS patients and the homeless in the community."
Needs: PBD's service needs include project management, interior design and space planning, murals, color consultation and product sourcing.
Time Commitment: It depends on the project, but typically a commitment ranges from 10 to 40 hours over several months.
To Find Out More: Sign up to volunteer online at http://pbd.org/volunteer.html. You will then be contacted to discuss various projects and where your skills and passion best mesh.
Purple Heart Homes helps make it possible for wounded veterans to continue living in their current homes.
Organization: Purple Heart Homes
Mission: Purple Heart Homes' projects include adapting houses to meet the specific needs of disabled veterans of all ages and from all eras, ensuring that they can live and age safely in place in their own accessible and sustainable homes.
Needs: This organization depends on both professionals and volunteers to provide design/build solutions, primarily when it comes to living-in-place design.
Time Commitment: Varies from project to project.
To Find Out More: Visit http://purplehearthomesusa.org for more information.