A Showhouse for a Symphony
---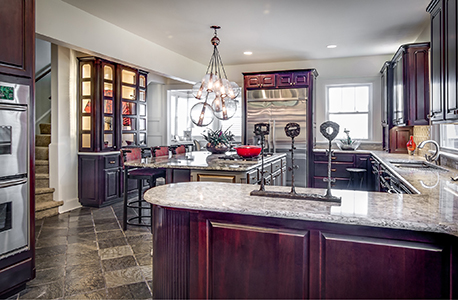 July 9, 2015
In support of the Kansas City Symphony Alliance, a group of more than 30 designers banded together to renovate a 1911 Georgian Colonial Revival home in Kansas City's Hyde Park. The home itself is a remnant of history; it housed tenants like John T. Barker, who served as special assistant in the U.S. Attorney General's office, to characters like Mrs. Lou Caceres in the 1960s, who opened the house up for young professionals and raised Pomeranian dogs on the first floor.


View this showhouse gallery here.
Kitchen
"I wanted to bring retro-European and city sophistication to the showhouse," said designer Susan Prestia of Interior Directions, who completed the kitchen and powder room. "In addition, working with green design or eco-friendly concepts was important to me, so I made sure to look for sustainable products in my design hunt."
When this home was built more than a century ago, the kitchen was just for preparation and set up, with a butler's pantry for serving. Cooking was handled on the lower level since there was no air conditioning at the time and the cooks needed a cooler environment. In 2000, the kitchen, butler's pantry and hallway were opened up for a more workable environment.
All of the designers strived to create rooms that honored this history. For this kitchen, Prestia drew inspiration from a German decorative planter from her maternal grandparents. The piece's rubbed bronze appeal is emulated in the metallic backsplash and bronze chandelier and contrasted by traditional dark cabinetry and quartz countertops.
Jack-and-Jill Bathroom
Situated between two bedrooms, the designers who completed the Jack-and-Jill bathroom hoped to maintain flow through the rooms and essentially create a spa-like luxury bed and bath suite.
"We like to mix several different style elements into our rooms – for the adjoining bedroom, we had painted cedar wainscoting on the walls with a graphic, artsy rug, classic bedding and abstract paintings on the wall," said Kelly Stipling of Madi Mali Homes, who worked in collaboration with designer Tammy Gros.
The bathroom plays on the mixed metal feel with antique-look light fixtures and abstract, colorful artwork. Having been renovated several times over the years, the bathroom likely had one sink originally and the second was added later. Available space dictated that the faucets be placed on either side rather than behind the sink.
Carriage House
While it may have been built to house coaches and carriages, the ShowHouse's Carriage House now is best suited for guests with its own kitchen and bath.
"My goal for the Carriage House kitchen and bath was to maximize both small spaces by incorporating an updated modern design for functionality and comfort with a classic yet timeless style," said designer Kathy Weiss.
Going for a clean, modern look with simple lines, Weiss used a 12-in. x 24-in. ceramic tile installed in a vertical offset pattern and a floating vanity with a white porcelain square vessel sink in the bathroom. The walls were painted in a dark charcoal, custom technique to give the space a polished finish.
This gray palette and elegant appeal carry over into the kitchen, where Weiss installed custom cabinets in a medium gray color to coordinate with the glass subway tile in a lighter gray. Marble countertops link the cabinetry and tile for a cohesive look. A slate-colored, granite composite, undermount farm sink and charcoal, hand-scraped hardwood floors complete the look.
"I was able to set my own trend of high-end modern design in a traditional carriage house space but was in keeping with today's current trend of gray paint," added Weiss.
Student Design
Katherine Bello, Erica Forsythe and Kelsey Kimble, interior design students at Johnson County Community College, designed the main home's third-floor bathroom. Because they had a limited budget, the team worked with the existing permanent fixtures in the bath as well as the original floral tile.
To keep it light and airy, the walls and ceiling were painted light blue, and a chrome faucet with coordinating light was installed. The continuation of the blue and coral lines in the tile is used to unify all the elements in the room.
"The goal for the third-floor bathroom was to illustrate how you can update a space with the expense of replacing the tile," said the students.
While the floral motif has long been out of style, the team updated the look by adding a striped rug, contemporary lighting and fixtures and fun artwork and accessories.
"The overall effect has a clean, fresh feel with a vintage vibe," they added.
2015 Sponsors:
GROHE
Ferguson
Hunter Douglas
Brewster Home Fashions
Kenneth James
Wall Pops!
Sherwin Williams
Kansas City Spaces
IKEA
Trend Stone
Easy Moves
Schmitt Music
Images Art Gallery
KCHG
Amy Lynne's Pest Control Service
Tricycle Designs
Notre Dame de Sion School
Fleishman Hillard
U.S. Bank
Cambria
Aristocrat Motors
Tivol
Rhino Builders