Ace of Cakes' 5 Steps to a Baker's Dream Kitchen
---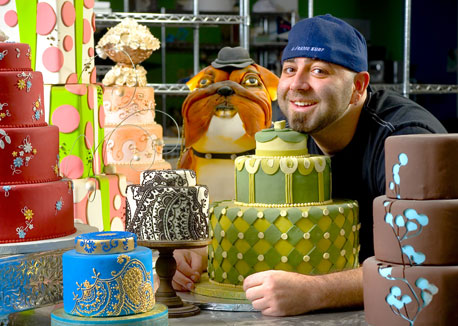 May 19, 2010
Whether a homeowner wants to create a multi-tiered, fondant-covered confection or simply bake a delicious loaf of bread for her family dinner, having a kitchen designed for baking can make the job, well, a piece of cake. The right counter surfaces and heights, appliances, storage and lighting can make the sometimes tedious art of baking that much easier and more enjoyable.
Creating up to 20 cakes a week—some of which take up to 29 hours to build and require the use of a drill, saw or blowtorch—Duff Goldman, chef and founder of Charm City Cakes in Baltimore, is someone who knows what design elements can make a baker's job easier. As one of the most sought-after decorative cake makers in the country, Duff and his team at the 6,000-sq.-ft. bakery regularly accomplish the seemingly impossible, like a tilted Dr. Seuss-like seven-tiered wedding cake or an almost perfect replica of Wrigley Field.
Duff and his team at the bakery are so spectacular they are featured on Food Network's "Ace of Cakes" reality show. Last fall, Goldman also released a book, Ace of Cakes: Inside the World of Charm City Cakes, detailing his journey growing his bakery into the nationally renowned business it is today—as well showcasing the bakery's amazing cake creations.
While the home baker may not need to make 20 cakes a week or store power tools in the kitchen, a space built for baking can make the process more successful and fun. So who better to dish on how to design the best baker's kitchen than the most fabulous baker boy himself? Follow Duff's design tips and get homes across America ready for a bake-off!

Duff's Design Tips for the Best Baker's Kitchen

1. Keep it easy to clean. "When you bake, you're always going to make a mess," said Duff. "People won't do home baking because clean up is so intense, so make your space really workable."
"Tile and grout are your enemies," said Duff. "You want even, flat surfaces so you can wipe down your whole counter. Have rounded edges where counters meet walls, or place the table work surface away from the wall so you can easily wipe it off and sweep it up."
Absolutely no clutter, warned Duff. "You don't want to have to move little knick-knacks, so get rid of them, or at least don't put them on the counter." Duff's home kitchen style is very simple—counters are free and clear, no magnets, no plants. "The only thing you can see is the spice rack," he said.
Overall, keep the work area clean and clear. "You can't make beautiful food if your station looks like garbage," he said.
2. Vary your countertop surfaces and heights. "Ideally, you want a marble, wood and stainless surface for working with different things," he said, "but wood is best for anything you need to put down a layer of flour for. Dough won't stick to it, and you can get enough friction to shape a loaf."
At Charm City Bakery, Duff and his staff made work surfaces with solid, untreated wooden doors from IKEA and table legs of varying heights. "Baking requires a lot of upper arm and body strength," he said. "When the table is lower, you can get more leverage. Imagine trying to shape a baguette at shoulder height—it's much easier when you can lean over it and really get on top of it."
He suggested home bakers invest in a large butcher-block kitchen table that can double as an everyday eating space and a baking work surface. "Kitchen space is prime real estate in a house, so to devote an area to baking might not be the best thing for a home cook," he said. "Have a baking space that can be used for other stuff, too."
Working dough is easier with the right counter height
3. Invest in the right appliances. In terms of small appliances, Duff said all you need is a 5-qt. stand mixer and a food processor. "KitchenAid stand mixers are the best," he said. "They are the easiest to use and clean and last the longest." He suggested getting all the attachments, including the dough hood, whip and paddle. "There is even a pasta machine that attaches to the front of it," he said. "Making pasta is really fun. It's such a mystery but fresh pasta is easy to do." You can also get a rolling attachment to roll out thin sheets of fondant for cakes.
For the food processor, Duff recommends a Cuisanart, which is what they use at Charm City. "The buttons are sealed under a layer of rubber, so it's easy to clean," he said. "A professional food processor can run several thousand dollars, but Duff said you don't need to spend that kind of money. "If the Cuisanart was good enough for my mom and grandma, it's good enough for me," he said.
4. Stay organized. Drawer space for rolling pins, spoons, whisks, lattice tools and other utensils is key, said Duff. "Don't keep them in a jar on your workspace," said Duff. "When you're baking you move around a lot, and it's just one more thing to knock over." And keep the drawers closed when you're working, warned Duff: "Otherwise flour and chocolate will get inside."
Specialized storage systems just for bakers aren't necessary, said Duff. "Baking organizers are like books with really nice spines," said Duff. "There are just there so everybody knows you read—or bake." Most important is being organized so you can easily pull everything you need out when you're ready to start your baking job. "Put your rolling pins, etc. in the same place every time," Duff said.
Staying organized is important; specialized storage systems are not
5. Install good lighting. "My favorite part of my home kitchen is the lighting," said Duff. "I have windows on two sides that bring in lots of natural light and good lighting above." Charm City Bakery has a few fluorescent lights on the fondant table and in storage areas, but otherwise all lighting is incandescent. Duff prefers really bright halogen lights. "To make art, we need natural light and lots of it," he said.
"Fluorescents disperse well and light evenly, but they are not really conducive to being creative," he said. "They are pervasive but not beautiful. Sitting under fluorescent lights doesn't make you see the beauty in things."