AD Home Design Show Wrap Up
---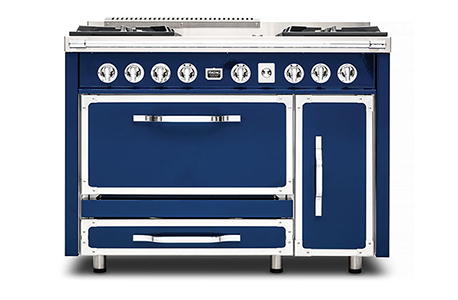 March 30, 2015
The 14th-annual Architectural Digest Home Design Show, which took place March 19-22 at New York City's Piers 92 & 94, explored design with a diverse range of brands, panels and show exhibits. K+BB explored the show floor for the latest and greatest and now brings a closer look at the trends and products discovered there.
View a gallery of products here.
• Less is More: With a slant toward eco-friendly products, exhibitors are prioritizing small sizes but with better-quality, energy-efficient results.

• Painterly Rugs: The appeal of a handmade rug, particularly one with the look of a painted surface, can serve as the artwork for designated areas.

• Rich Colors in the Kitchen: A greater use of dark, deep colors like navy blue, chocolate brown and eggplant are making their way onto the walls and cabinets in kitchens.

• Decorative Wall Finishes: Fun paint and wall finishes add a new layer to interiors.

• Curves: Rounded, circular and arc-shaped objects – from lamps to sofas – are making their way into the home.


Solna Pull-Out Spray Kitchen Faucet by Brizo
• Unexpected Color Combinations: Brave juxtapositions of color put a new spin on old hues.

• Metallics: Trending for some time, the mix of metallic continues with more subtle hints of shimmer.

• Gray: The neutral tone works well in any décor and continues in shades of charcoal, slate and light gray.

• Upscaling the Outdoors: More attention is being paid to elegant outdoor vignettes and comfortable lounging furniture.

• Warm Finishes: Lighter, warmer finishes, including blond wood, copper and bronze, flourish on floors, walls and furnishings.
• American-Crafted Products: The show boasted a commitment to American craftsmanship for a feeling of authenticity.