All the Comforts of Home
---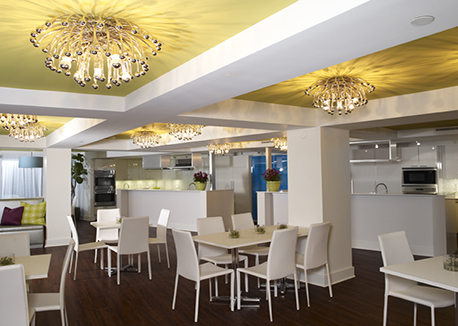 December 12, 2014
As the holiday season draws upon us, many designers find a way to give something back to their communities. For Manhasset, N.Y.-based interior designer and owner of Poggenpohl Long Island Vasi Ypsilantis and her friend Sea Cliff, N.Y.-based interior designer Margreet Cevasco, the decision to participate in the 1,600-sq.-ft. kitchen and dining area renovation was simply heartfelt. This is the second year the design duo poured their heart and soul into the renovations at the Ronald McDonald House Long Island located in New Hyde Park, a respite for families of seriously ill children.
"We share the same goal, which is to make these dream kitchens and living spaces a reality for parents and families who are seeking the comforts of home," said Ypsilantis.
Families often stay multiple times at the house throughout the year caring for their children in the neighboring hospitals and appreciate the design upgrades, as they make their lives a little easier.
"For the last eight years, our family is lucky to call the Ronald McDonald house of Long Island our home away from home," said Laurie Swihart of Texas, who has four children undergoing treatments. "I am so thankful that the designers poured more love into the House this time, which makes our situation seem less difficult. The kitchen is the heart of the home where we eat, cry and laugh together and share our stories – it's priceless. The designers and hardworking teams rejuvenated the house; they made it brighter and added areas for families to feel at home. That in itself is a precious gift to those who are going through extremely difficult times."
The design team overcame some technical and construction challenges, including low ceilings, structural columns, working with an angular space and a limited traffic pattern. The result was a more open space offering seating flexibility for 60 people with banquettes and square tables that can be moved around for small or large families. Incorporating four ADA-compliant cooking areas was a priority for Ypsilantis, since she saw families struggling to cook in the first kitchen design where ADA was prohibitive because of structural columns.
"In this kitchen, families cook and dine together while suffering through what we can only imagine to be their worst nightmare," said Cevasco. "They might not be focused on the details or nuances of the interior design, but we know for sure that they find comfort within these walls – their home away from home. If we can allow families caring for their children in the neighboring hospital some comforts of home and a living space that supports them, then we have achieved our goal."
The contemporary space features several design and architectural details that accentuate the room and offer a dramatic outcome: the enhanced coffers created to offset low drop ceilings, energizing green wall color, whimsical chandeliers, cerulean sliding pantry doors that make a bold statement alongside classic white European frameless cabinetry and state-of-the-art stainless steel appliances.
The kitchen layout functions to support both cooking, storage and eating at any hour of the day or night, and multiple integrated appliances complete the design. Additional shelves were built into the expanded pantry so each family can store grocery items. The adjacent dining area with cozy banquette seating offers a soothing home-like setting that helps guests unwind and offers a moment of relaxation.
The kitchen and dining areas include fresh inspirational ideas that can be adapted to any kitchen renovation, such as creating a focal point with a bold accent color on walls or pantry doors, maximizing cooking and storage areas with double islands, expanded pantry space for large families, coffered ceilings and bringing the outside in with the juxtaposition of bold and neutral colors.
"Our combination of design and contracting expertise enhances the project's creativity and functionality, since Margreet and I both employ a similar design aesthetic," said Ypsilantis, who has created one-of-a-kind kitchens for more than 20 years as the lead designer of The Breakfast Room. "Teaming up on renovations can be a challenge, but we've enjoyed 10 years of successful showhouse projects, residential renovations and endearing friendship, so we always find a way to make it work especially when it comes to a feel-good project like Ronald McDonald House."
Several sponsors donated products and provided discounts worth more than $300,000 in return for helping promote a worthwhile cause, including Sub-Zero Wolf kitchen appliances, kitchen cabinetry from Poggenpohl Long Island, Silestone quartz countertops, Renaissance Marble works (fabricator), Cancos tile, Mitco Construction, Top Knobs, Blanco sinks and faucets, Robert Abbey and WAC lighting.
"What started out as a means to promote my interior design firm quickly became a personal quest to support this extraordinary organization, whose primary goal is to lovingly care for families who are caring for seriously ill children," said Cevasco. "I've been profoundly moved by such an important use of my time and talent."
The Ronald McDonald House of Long Island is the 100th House of more than 300 Ronald McDonald House programs worldwide. Located in New Hyde Park on the campus of the Steven and Alexandra Cohen Children's Medical Center of New York, the house accommodates families in a warm and supportive environment. For 28 years, RMH-LI has been a home-away-from-home for more than 19,000 families in the U.S. and more than 80 countries around the world that are dealing with the pain of having a child undergoing medical treatment at nearby hospitals.